MAXIM HOT 100 2012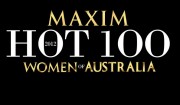 Gentlemen,
Your HOT 100 is ready! In case you don't know what that is, we retired to the woods for a few months, built a cabin out of sticks and bark (luckily, we still had access to Wi-Fi), and carefully compiled the definitive list of Australia's 100 sexiest women.
The criteria? Well, it's not just about sexiness. We also took into account career achievements, 'cool' factor, and whether or not our parents would like her. Most important of all, each lady on the list is an Aussie.
This is the first time we've published the HOT 100, so it's presented as a special edition flip cover on our November Issue, which is out now.
Enjoy!
Here's the first half of the list. For the full Hot 100, grab the November Issue of MAXIM Australia.
51. Natalie Bassingthwaighte
52. Rochelle Fox
53. Kate Ritchie
54. Kylie Boldly
55. Women in yoga pants
56. Rose Byrne
57. Fuel TV Smokin' Hotties
58. Tiffany Hall
59. Michelle Bridges
60. Cariba Heine
61. Isla Fisher
62. Nicole Kidman
63. Stephanie Gilmore
64. Kym Johnson
65. Sarah Murdoch
66. Sonia Kruger
67. Melissa George
68. Natarsha Belling
69. Melinda Tankard Reist
70. Hermione Kitson
71. Rebel Wilson
72. Sheridyn Fisher
73. Kate Waterhouse
74. Roz Kelly
75. Charlotte Best
76. Giaan Rooney
77. Lee Furlong
78. The Veronicas
79. Dannii Minogue
80. Kylie Minogue
81. Maude Garrett
82. Jana Peterson
83. Sharon Strzelecki
84. Jessica Watson
85. Ally Pinnock
86. Asher Keddie
87. Sandra Sully
88. Charlotte Dawson
89. Jackie O
90. Carissa Walford
91. Kylie Gillies
92. Carrie Bickmore
93. Lisa McCune
94. Georgie Ryan
95. Melissa Doyle
96. Lisa Wilkinson
97. Princess Mary
98. Woman With A Tool
99. Dame Edna
100. Julia Gillard
For the full feature and images grab the November 2012 issue of MAXIM, in stores October 17 – November 21, 2012.
To grab a digital copy CLICK HERE. All past issues available for download.
To subscribe CLICK HERE. Australian residents only.
iPad Application also available. CLICK HERE. All past issues available for download.