Lady Gaga
A dizzying, twisted, intoxicating lunch with the first lady of the dance floor: Lady GaGa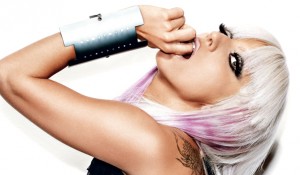 Morton's Steak House in New York is not the kind of place you expect to run into vamp-tastic Lady Gaga. It's very business casual, the speakers pipe Sinatra into the restrooms, and the palette is all ambers and browns, like you're eating in a cigar box. So when the foul-mouthed, pants-allergic, electro-loving pop princess – who is in the midst of the Australian leg of her Born This Way Ball tour– walks in for our Q&A, there's hardly a person in the dining room who doesn't do a double take. Gaga, born Stefani Joanne Angelina Germanotta 26 years ago in Yonkers, New York, is wearing giant gold sunglasses, a lavender leather jacket, and white vinyl capris. "I'm dressed conservatively today," she says. "I should take off my pants just to freak them out!"
This interview was supposed to take place at your house. What happened?
My concerts are about me being very private in public, but I'm very protective. My apartment is my stage, and my bedroom is my stage — they're just not stages you're allowed to see. When you let a bunch of people in there, they f–k with that energy and it becomes a circus. Put it another way: Everybody wants me to show my vagina to the world all the time. And the truth is, I don't have to.
Speaking of public displays of vagina, what's up with that girl crush you had on Britney Spears?
I was 13 when Britney became a star. My friends and I used to go to [MTV music request show] TRL once a week just to stand outside. But even then I wasn't a superfan. I was amazed by the level of superfan that Britney created. I liked to watch and be a part of the huh-huh-huh-huh! — the hyperventilating. I want to bring back the feeling I used to feel.
For the full feature and images grab the July 2012 issue of MAXIM Australia.
To grab a digital copy CLICK HERE. All past issues available for download.
To subscribe CLICK HERE. Australian residents only.
 iPad Application also available. CLICK HERE. All past issues available for download.