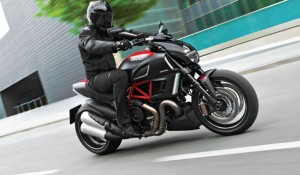 You'd expect a Ducati hyper-sports bike to go like stink and excite the senses; you'd expect a cruiser-style bike to massage your masculinity at sedate speeds. Combine these two very different types of motorcycle, as Ducati has done in the Diavel 'hyper-cruiser', and all that you can expect is the unexpected.
Potent, 'power-cruiser' bikes like the Harley-Davidson V-Rod and Yamaha V-Max typically weigh in at 305-345kg, ready to ride. Such figures don't compute at Ducati. The Diavel is the manufacturer's heaviest model, yet weighs in at just 239kg (or 234 in the fancy 'Carbon' edition). At its heart is the 1198cc, L-twin derived from Ducati's World Superbike champions. With 119kW of brawn comes the brainpower of three electronic riding modes, which, at the touch of a handlebar switch, transform the Diavel from easygoing to intimidating.
Low-riding cruisers are already among the easiest of bikes to manoeuvre. 'Urban' mode smooths and limits the Diavel's power delivery to 75kW, and cranks up the eight-level electronic traction control (ABS brakes are also standard) to cope even better with slick city streets.
For the full feature and images grab the June issue of MAXIM, in stores May 16 – June 20, 2012.
To grab a digital copy CLICK HERE. All past issues available for download.
To subscribe CLICK HERE. Australian residents only.
 iPad Application also available. CLICK HERE. All past issues available for download.