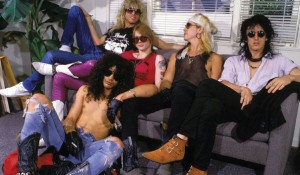 've known a lot of junkies. Many of these addicts have either died or continue to live a pitiful existence to this day. With many of them, I personally witnessed a wonderful lust for life in them as we played music together as kids and looked toward the future. Of course, no one sets out to be a junkie or an alcoholic.
Some people can experiment in their youth and move on. Others cannot.
When Guns n' Roses began to break into the public consciousness, I was known as a big drinker. In 1988 MTV aired a concert in which Axl introduced me – as usual – as Duff "the King of Beers" McKagan. Soon after, a production company working on a new animated series called me to ask if they could use the name "Duff" for a brand of beer in the show. I laughed and said of course, no problem. The whole thing sounded like a low-rent art project or something – I mean, who made cartoons for adults? Little did I know that the show would become The Simpsons and that within a few years I would start to see Duff beer glasses and gear everywhere we toured.
These days tours are run with an iron fist. The smallest possible crew, no private plane. The idea is to come out with as much profit as possible. It was completely different back then. By the time Guns n' Roses spent 28 months from 1991 to 1993 touring the Use Your Illusion albums, the tour staff sometimes approached 100 people. We were carrying not only backup girl singers, a horn section, and an extra keyboard player, but also chiropractors, masseuses, a singing coach, and a tattoo artist. Each of us had bodyguards and drivers. Money poured into nightly after-show theme parties. There were gambling nights and toga parties; in Indianapolis the theme was car racing. The party staff was part of the paid entourage, too. The parties would go into the early morning hours.
Given what I'd seen, a reputation for drinking didn't seem like a big deal. But by the Use Your Illusion Tour, my intake had reached epic proportions. For the tour, Guns leased a private plane. It wasn't an executive jet; it was a full-on 727, with lounges and individual bedroom suites for the band members. Slash and I christened the plane on our maiden journey by smoking crack together. Before the wheels had left the ground. (Not something I recommend, incidentally – the smell gets into everything.)
I don't even remember playing Czechoslovakia. We played a stadium show in one of the most beautiful cities in Eastern Europe not long after the fall of the Berlin Wall, and the only way I knew it was because of the stamp I found in my passport.
It wasn't clear anymore whether or not I would be one of those who could experiment in his youth and move on.
Every day I made sure I had a vodka bottle next to my bed when I woke up. I tried to quit drinking in 1992, but started again with a vengeance after only a few weeks. I just could not stop. I was too far gone. My hair began falling out in clumps, and my kidneys ached when I pissed. The skin on my hands and feet cracked, and I had boils on my face and neck. I had to wear bandages under my gloves to be able to play my bass.
There are many different ways to come out of a funk like that. Some people go straight to rehab, some go to church. Others go to AA, and many more end up in a pine box, which is where I felt headed.
For the full feature and images grab the May issue of MAXIM, in stores April 18 – May 16, 2012.
To grab a digital copy CLICK HERE. All past issues available for download.
To subscribe CLICK HERE. Australian residents only.
 iPad Application also available. CLICK HERE. All past issues available for download.