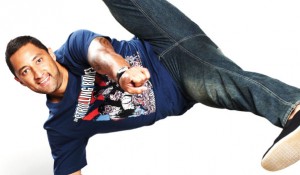 You're 27 and you've already got a book [My Game, My Story] out about yourself. What's next: a fat-free grill, George Foreman-style?
The funny thing about that is that I've got one. I dunno what's next – I just like to roll with the punches. To be honest, though, the book is more about how I grew up without much money and it's there to show kids they can get to the top, no matter where they start out.
Have you ever watched the video Benji Marshall – 15 Minutes of Mayhem on YouTube? It's had over 175,000 views.
My little brother showed me. It's crazy. The people who put those things together – it must take a lot of time and effort. There were actually things in that video I'd forgotten about.
Do you ever watch replays of old games?
I find it hard to watch myself if there are other people around. It feels weird.
It's like actors watching their own movies.
Mate, I'd love to be an actor. I'd watch my own movies, for sure – they'd be action packed. I'm the next Denzel Washington. I can put the Oscar next to my Golden Boot.
When you do watch replays, does it help with fine-tuning your play?
The good thing about watching the footage is that if you're lacking confidence you can go back and watch the things you do well, or used to do well. We have computers with highlights going back to 2001 and I always find it helpful watching that stuff.
What is there that needs fine-tuning still?
Mate, there's always things to work on. With my game, I think there are some options I take that probably aren't the best, but I still practice the things I'm good at, too, because if you neglect your strong points, you lose them over time. The day you think you can't get any better is the day you'll start struggling.
Would you rather spend more time kicking or running the ball?
This year it's running. I've actually written that down as one of my goals. I'd like to make a few line breaks and score a few tries. It's hard in my position, since it's a playmaker role.
On the topic of playmaking, there'll be no Darren Lockyer this year. What was it like facing off against him in the halves?
It was great. The best way to find out how you're travelling is to take on the best. Darren Lockyer was the best for a long time and he was a hero of mine when I was growing up, so it was a dream come true coming up against him and getting some wins over him.
The haka – how much of its effectiveness has to do with the tongue?
That whole tongue movement, a lot of it comes in the break between words. You just stick it out and it makes you look uglier, really.
Maybe you can do the haka in the opening scene of your action movie.
Yeah, great idea. I just thought of a good title: 15 Minutes of Mayhem.
Your longtime coach Tim Sheens seems like a wise man. What's the best advice he's ever given you?
More of a rule than advice, and It's to do with practice. Anything you see me do on the field, Sheensy's seen me do it at training.
Tigers skipper Robbie Farah does a bit of modelling. Which of you is better at striking a pose?
Me. By miles. He's only got one look and he copied it off Zoolander. I've got Magnum down, mate.
Staying with style, tell us a bit about your partnership with Mambo.
I love their brand, I love what they're about, I love the people involved, and they've even given me the chance to come out with my own signature range, which is out later this year.
Back to Farah – have you eaten at his restaurant, Tiger Tiger? Is it compulsory, since he's the captain?
We have lunch there as a team pretty often. He's not a bad chef, actually. I'll give him that much. He's far from a model, though. I suppose he can play football a bit, too.
Can you recommend anything from the menu?
The Benji Burger. That's Wagyu beef at its best. And at $15, it's very affordable.
To grab a digital copy CLICK HERE. All past issues available for download.
To subscribe CLICK HERE . Australian residents only.
 iPad Application also available. CLICK HERE. All past issues available for download.