Homebake is a music institution in Australia. Since its debut in 1996, the event has remained a key fixture of the Australian summer of music, kicking off the season at the beginning of December with a lineup chockfull of the very best in new, established and veteran Aussie acts. The timetable and map for this year's event in The Domain, Sydney, is up now at the official site and the whopping bill includes; Grinderman, Pnau, Gotye, Gurrumul Yunupingu, Cut Copy, Icehouse, Ladyhawke, Drapht, Daniel Merriweather, The Triffids, Eskimo Joe, Architecture in Helsinki, The Church, Illy, The Jezabels, Kimbra, Hungry Kids of Hungary, Ratcat, Owl Eyes, Seeker Lover Keeper and 360. Tickets are still available, so get over to the official site and get amongst it!
Also on the bill are rock legends The Vines, who first played Homebake back in 2003. We caught up with drummer Hamish Rosser to get his vibe on this unique event. by Chris Stead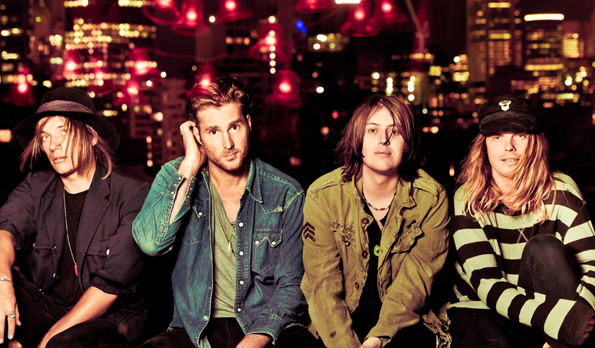 What are the perfect ingredients for a summer festival in Australia?
Awesome bands, good weather, short bar queues and a few thousand girls in cut off shorts.
We've heard many artists say that Aussie crowds are the craziest in the world? What do you reckon and why?
Aussie crowds can get pretty loose but did you know that in Germany you're allowed to drink beer from the age of 16? We played in Cologne and there were drunk school kids crowd surfing for the whole gig. Top that Australia!
Do you have a preferred time slot you like to play, when the crowd is at its peak?
My favourite time slot is sunset because when dark falls on a festival the whole vibe changes and a lot people start peaking. All day the crowd has been getting primed so they're already pretty loose and after dark their inhibitions go out the window. Plus we look way better with the benefit of the light show!
You must have seen some crazy stuff go down in the crowd: what sticks out in your mind as being the nuttiest?
Alternative Nation was a festival at Eastern Creek in the 90s and rained so much that the hill side that the crowd were standing on turned into a giant muddy slip 'n' slide. I watched a bunch of guys running and diving head first down this giant mud slide and then I realised that one of these guys was stark naked! Shades of Woodstock, right? I hope he had his car keys, cash or bus ticket stashed somewhere safe, if you catch my drift, because hitching a ride can't be easy when you're naked and covered in mud.
What about backstage: do you have a few classic yarns you can share about what you've seen behind the scenes?
So its December 2005 and Motley Crue are in town with Motorhead. Tommy Lee's personal assistant is a friend of mine and we decide to go and see the Foo Fighters, who are playing at Acer arena that night. I've met the Foos a couple of times before and on this occasion Dave Grohl and the band are amazing hosts and insist that if we get thirsty we should just come back to their dressing room for a cold beer. What a legend, right? Halfway through the Foo's set my throat gets a bit dry and I wander back to their dressing room and who should be in there but Lemmy from Motorhead! You see Lemmy and Dave are mates from LA and they got together on Dave's Probot album around that time. I exchanged a few grunts with Lemmy, helped myself to a couple of cold Foo Fighter's beers and watched the rest of the gig. After the show the band invited us all back to their hotel to help them celebrate bass player Nate Mendel's birthday. What a night and well worth the crushing hangover the next day. PS Lemmy is not human or he'd already be dead.
Does Homebake make you feel special as an Australian artist? Is there a lot of respect for the event out there?
Thanks to Triple J there is a lot of love for Australian music out there which is what makes Homebake possible. As an artist we have a lot of respect for our fellow Aussie bands and its always great to catch up with some old friends for a few drinks in the backstage at Homebake.
Did you ever experience Homebake from a punter's perspective: do you think the festival has changed much over the years?
From a punter's perspective Homebake is awesome. Firstly its located in the centre of Sydney so it's easy to get to. Secondly it's not too big so you can get around the site easily and there's no D-barrier at the front of the main stage. Except for the addition of a fourth stage, Homebake hasn't really changed much since it moved to its current location in the Domain from Byron Bay. It still attracts the best looking crowd of any Sydney festival.
What can Homebake do for up and coming local acts?
For a lot of Aussie bands Homebake is their first festival and with that comes the kudos of making it to the big stage, Triple J radio support and a plethora of nubile young rock chicks at the after party.
We love the Domain in Sydney as a venue: where does it rate for you in your globetrotting adventures?
Let's see. Way better than Glastonbury, Reading & Leeds cause it always rains in England and I'd have to say right up there with Coachella and Splendour in the Grass. The Domain has lush grass, Moreton Bay Figs for shade and a close up view of Sydney's skyscrapers. It's pretty freakin' awesome.
What should fans look out for in your Homebake set – you working on any special versions of your songs?
After 5 albums our festival set has been refined to nothing but back to back hits. This year look out for flying guitar debris. Please don't sue.
The famous bats of the Domain love coming out for sunset: if one landed on stage, would it cross your mind to bite off its head in the name of rock?
The first time I saw the bats at Homebake I thought I was having a bad trip. It turns out that I was having a bad trip because I ate too many mushrooms in the middle of the day and the bats don't come out til night time. I probably would bite the head off a bat if it landed on stage but only if I was really hungry and had a nice bottle of red to wash it down.
What's part of a typical Vines rider?
Beer, beer and more beer. Oh, and vodka too.