Ricki-Lee Coulter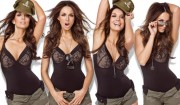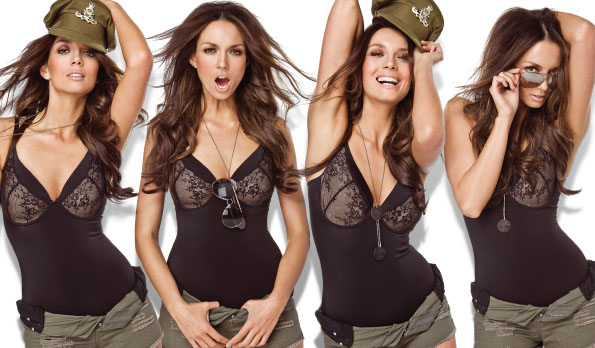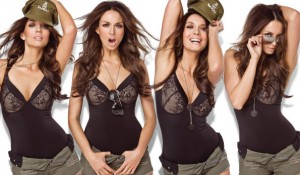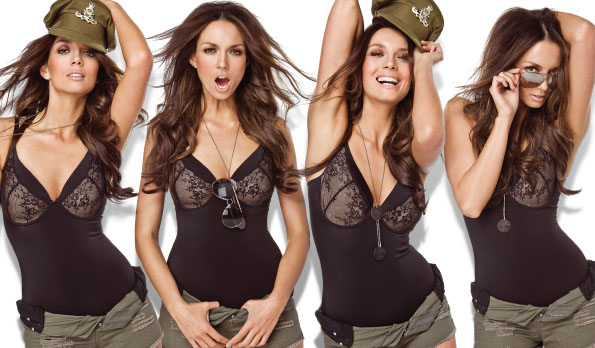 Looks like you're back with a vengeance, Ricki-Lee. What's the deal with the hot military theme?

I just had this picture in my head of military garb. There's nothing sexier than a woman in a military uniform.
Would you ever do a tour of Afghanistan and entertain the Australian troops?

I'd love to. I've been asked before but it got cancelled at the last minute because things got a little volatile.
If you went over, you'd probably be offered the opportunity to fire some rounds. Would you do it?

Absolutely! With guns, it's a case of the bigger the better. I grew up on a farm, so I've played with smaller guns before, and I went to Thailand and shot a .44 Magnum. But I'd love to shoot a serious combat rifle.
Keeping with the combat theme, word is you like watching a bit of the old punchy face?

I love combat sports – we get all the Pay-Per-Views. For my boyfriend's 30th, I took him to Vegas and got him floor seats for UFC 126, where Anderson Silva fought Vitor Belfort. Fight Night in Vegas can't be beaten. I tell you, if [Floyd] Mayweather ever fights [Manny] Pacquiao I will be there, no question.
Kinda wish you were our girlfriend. That's one of the best presents ever.

I think I enjoyed it more than he did. I love boxing, love UFC, love the V8's, love rugby. I'm no girly girl.
Your new single is called "Raining Diamonds". It's not some kind of bizarre climate change anthem, is it?

The metaphor for "Raining Diamonds" is that you deserve the best of everything. I've been in bad relationships, bad friendships, bad working situations – you can't settle for bad, you need amazing. When you see a high-quality diamond, it's amazing, and life should be like that.
Your new man seems to have it pretty amazing. How can we meet a fight-watching, gun-toting, lingerie-wearing lady?

We met though a mutual friend, actually. I'd been single for a year and I may or may not have nudged my friend and said, "C'mon, you have to have some single, attractive friends." They had someone in mind and we met at the Espy [Esplanade Hotel] in Melbourne after a day at the footy. I'd just ordered a jug of beer and it was that time of night where I was bypassing the glass and drinking straight from the jug. This incredibly hot guy walks in and he was laughing, not reeling in disgust. He grabbed my hand, we got some shots, and yeah, great start.
That's definitely a tale for the grandkids. We can't help but notice how fit and sexy you look in these pics…

At the beginning of last year I was touring with the Backstreet Boys and I really wanted to impress. We were performing at huge arenas and it got to the point where I'd be walking across the stage and I'd have to hold myself up on the mic stand because I was so unfit. At that point, onstage, with tens of thousands of people watching, I had a bit of a moment. I thought, 'Well, this actually isn't OK. My work is not going to suffer because of my unhealthy lifestyle.'
How did Ricki-Lee 2.0 come about? Was it as simple as cutting out the jug skolling?

It wasn't that easy. I had to seriously change my diet and I'm lucky to have a personal trainer boyfriend who can put me through my paces. He's done such a good job whipping me into shape. There are mornings I'm meant to work out and I don't want to, so I cuddle him and say, "Just a few more minutes," but he always gets me up.
There's probably a way you could keep him in bed.

Oh, trust me, I've tried that one a few times. But when we're done, he's like, "OK, now you go running."
You're the face and body of lingerie label Hold Me Tight. Is lingerie your everyday undergarment of choice or is it reserved for special occasions, like when you want to get out of training?

I'm definitely a lingerie girl. Without anyone even seeing it, it can make you feel sexy. I like to wear beautiful lingerie whenever I can. Confidence can come from feeling sexy and I feel sexy when I'm wearing nice underwear.
Let's talk about Rihanna. As a fan and a performer, do you reckon all her lyrics about rough sex have some kind of empowerment message behind them? Or is she just into rough sex?

I think maybe that's what she likes. Music is a form of expression. I wouldn't whip my hair around and gyrate on things if I didn't want to. The great thing about being a woman is that we are sexy – and if you're a sexual person and want to express that, that's a powerful thing. If you feel like being overtly sexual, that's up to you. It's different if you feel like you're being forced into it but I don't think that's the case with Rihanna, and that's not the case for me.
Can we expect any racy stuff on your new album?

Well, there's one song that's all about how sexy my man makes me feel, and that maybe instead of turning the lights off we should keep them on. Expression is a great thing and as a writer it's really fun to push the boundaries like that.
There are rumours you're going to be co-hosting the new Young Talent Time. Say it ain't so.

It ain't so. That's the papers making stuff up. No-one knows I've spent all of 2011 making music and they've pretty much just filled in the gaps however they want.
What are some of the media theories you've heard?

I've heard and read so many things about what I'm supposedly doing: hosting TV shows, judging on talent shows, doing films, and I think I was pregnant, too. I've also heard that I'm washed-up and my career's over. But all that time I've been working with the industry's best people, I've signed a record deal with one of the world's biggest labels, and I'm about to launch an album that will, hopefully, be a huge success.
Ben Mckelvey
For the full feature and images grab the November 2011 issue of MAXIM Australia.
To grab a digital copy CLICK HERE. All past issues available for download.
To subscribe CLICK HERE. Australian residents only.
 iPad Application also available. CLICK HERE. All past issues available for download.