From Albert Einstein to Charles Lindbergh, history remembers Longines. Now, with their latest Master Collection, find out why you should make the brand your first luxury watch…
With a heritage spanning three different centuries and associations with some of history's most celebrated men, luxury Swiss-watchmaker Longines is looking ahead. Founded in 1832, Longines is seven years older than Patek Phillipe and a whopping 73 years older than Rolex. Indeed, the iconic Longines logo — a pair of wings flanking an hourglass — remains the oldest continually registered trademark in the world. Accuracy and innovation have always been the Longines' M.O. It's no wonder they're the longstanding time-keeper for elite horse racing, along with events such as the French Open and the Commonwealth Games. Nevertheless, instead of buckling under the weight of its own impressive history, Longines has continued to develop new timepieces and remains a global force in horology. Here, discover the stories (and men) behind some of Longines' most iconic timepieces.
Alongside James Bond's Omega Seamaster, Paul Newman's Rolex Daytona and Andy Warhol's Cartier Tank, Albert Einstein's yellow gold Longines is one of history's most remembered watches. Unsurprisingly, this particular 1929 Longines fetched a record-breaking US$596,000 at auction in 2008. That's not to suggest all Longines men are confined to the pages of history books. Over the past eight years, Australian actor Simon Baker has become one of the most visible Longines ambassadors, giving their ubiquitous ads a distinctly Aussie touch. Still, of all the men who've defined Longines, none revived their fortunes or altered their course more than American aviator Charles Lindbergh — the first man to complete a solo trans-Atlantic flight — who collaborated with the company on a custom timepiece in 1931. The resulting Lindbergh Hour Angle watch (the original is now housed in the Smithsonian) incorporated markings on the dial and bezel which allowed pilots to determine the hour angle, a lifeline to establishing longitude navigation. Upon launching, the Lindbergh was an instant hit among aviators, who trusted the watch to help guide them over open water at a time when aviation was among the deadliest pursuits known to man.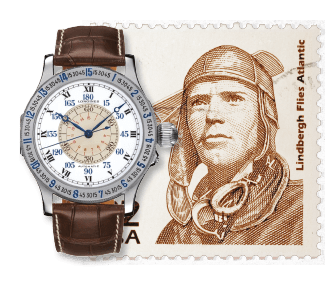 In 2015, a silver Hour Angle watch once owned by French aviator Dieudonné Costes sold at auction for over US$140,000, a new record for a Lindbergh watch. Although a slightly more esoteric figure than Einstein or Lindbergh, Costes' achievements were no less impressive. A former fighter ace, he broke several world records and made the first non-stop crossing over the South Atlantic Ocean. According to the Costes family, the watch was actually a gift from Charles Lindbergh himself. Currently, a standard Lindbergh will set you back around AUD $6,575, and remains one of Longines' most famous and enduring creations.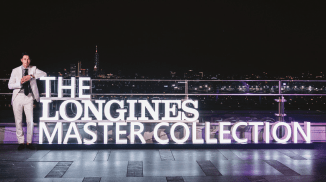 Fast forward nearly 90 years to glitzy Taipei, Taiwan in late 2019, and Longines is launching its latest 'Master Collection'. Since 2005, the annual Master Collection event has become Longines' main stage to give assembled press and a few lucky collectors their first glimpse at the newest addition to their range. Korean movie star and Longines ambassador Jung Woo-sung is on hand to unveil this year's Master Collection watch. The highlight of the new model? A unique moon-phase indicator, encircled by an Arabic numeral date ring designating the current day. Available in two sizes (40 and 42 mm diameter), the latest Master Collection watch is available with either a stainless steel bracelet or a black, brown or blue strap, to match a range of different dial colours. "The [new] Master Collection is the perfect watch for me," says Woo-sung. "Its classical elegance and timeless aesthetics completely match with my style." Starting at AUD$3,325, it's also an accessible price point for any suave gentleman looking to invest in their first luxury timepiece.
In 1936, Longines introduced the Caliber 13ZN chronograph movement, the Michelangelo of Swiss watchmaking, and the first chronograph ever created for a wrist watch. Today, vintage Longines watches featuring the legendary 13ZN chronograph are in high demand among horological collectors. Of the five most valuable Longines ever sold at auction, three feature chronographs. One of the most prolific and well-known Longines collectors is Englishman Matt Hanson, whose artfully curated Instagram @vintagelongines has attracted over 20,000 fans. "I was first drawn to Longines by the beauty and simplicity of their watches from the 1950's and 1960's" he tells us. "But after a short period I realised that Longines has so much more to offer, as well as the best brand heritage team in the watch industry. Every watch made by Longines can be traced back to when it left the factory in Saint Imier, Switzerland."
Like almost anything worth collecting, provenance and rarity are the most desirable factors for watch collectors. "My most special Longines piece has to be an R.A.F. issued, Longines reference 4830" says Hanson. "The gentleman who was originally issued the watch was quite a remarkable man, who served in the R.A.F. during the Second World War." The original owner, Stanley Turner, was part of Britain's pathfinder's force during the war, tasked with flying into enemy territory and guiding ensuing bombers. It was incredibly dangerous, and Turner bailed out of crashing bombers on two known occasions, supposedly while wearing his trusty Longines watch. "Longines asked to borrow the watch in 2018, to use as the inspiration for their new Heritage Military watch. To be able to tell the story of Stan through his watch is something that is really important to me. Ultimately, that's what makes the watch so special." The leap from collector to collaborator is surely the fantasy of any serious watch collector. Hanson agrees. "To have Longines make a re-edition of a watch I own, with a little input from me, is something I could have only dreamed of. Any time I see the watch on someone's wrist, I feel hugely proud."
Matt also has some advice for those looking to invest in their first Longines watch. For vintage Longines, "focus on dial and case condition" he advises. Overall, whether buying new or vintage Longines pieces, "read, study [and] take some time to learn what you want to own, but ultimately, get involved! You will make mistakes, your collection will change, but it's a lot of fun researching and owning Longines watches."
Certainly, despite a sluggish economy, more Aussies than ever are shelling out for their first luxury watches. Perhaps we're just fatigued with the increasingly crowded world of smartwatches, which seem to become obsolete quicker than you can say "fitness tracking". On the contrary, Swiss timepieces not only maintain value, they're also a trusted form of long term investment. Except, unlike stocks or an oil painting, you can confidently wear your Longines investment every single day. ■
Longines watches are available at Longines.com, Longines boutiques and authorised retailers
Text by REILLY SULLIVAN
For the full article grab the July 2020 issue of MAXIM Australia from newsagents and convenience locations. Subscribe here.