Fourteen days, twelve of our gorgeous models and one epic luxury resort. Yes, this is how MAXIM does the "Cradle of Polynesia"…
"Carmel dipped wafer, covered in coconut flakes and drizzled in chocolate comes to mind when I think of the word "Samoa" – my favorite girl scout cookie. But now, after this Destination MAXIM – my fifth trip for MAXIM, Samoa has a whole new meaning . This tropical island was straight out of a dream – the clearest blue skies, sparkly water, plus the hottest babes in my view – I was in paradise. Every Destination Maxim trip is special in its own way and has the most memorable moments. Once again I added new best friends to my collection, mostly from Australia this time.
My favourite part about Samoa was the breathtaking sunrises – every morning I woke up very early at 5am so I could take advantage of the full day. Working with my favourite photographer, Rocky, as usual and my most favourite producer Bella, I'm soglad to have been featured many times in MAXIM Australia. It's truly my dream job and these experiences with everyone are memories I will treasure forever. Thank you to everyone who has supported me thus far, it's been the most pleasant journey and I can't wait to see what the future holds. Ashley XOXO.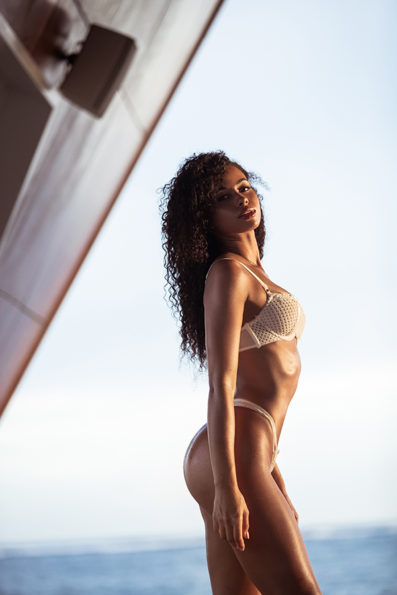 STATUS UPDATE
FULL NAME: Ashley Arre
BORN: May 14,1994
HOMETOWN: New Orleans, Louisiana USA
LIVES: Miami Beach, USA
HOBBIES: "Health, beauty, charity and learning."
HIDDEN TALENT: "Making others feel loved."
PHOBIA: "Being lost in Costco from my mum."
INSTAGRAM: @Ashley.arre
Photographed by Rocky Batchelor
Produced and Styled by Belinda Roelofs
Hair & make-up by Simmy Carr
Lingerie & bikinis by Mary Holland Lingerie
Videography by Alex Scapens
Shot on location at Taumeasina Island Resort
For the full article grab the May 2020 issue of MAXIM Australia from newsagents and convenience locations. Subscribe here.