Fourteen days, twelve of our gorgeous models and one epic luxury resort. Yes, this is how MAXIM does the "Cradle of Polynesia"…
Tell us a little bit about yourself.
I was born in NZ to an Aussie father and a Kiwi mother, I moved to the Gold Coast when I was a young teen and it is my all-time favourite place in the world. I began assistant and marketing type roles doing modelling here and there and I pursued one of my dreams to travel the world – and I haven't look back. I now live in Sydney and I'm looking to settle more while continuing modelling.
What would people be most surprised to know about you?
I used to be a huge wrestling fan and even starting wrestling myself. It didn't last long and I'm happy to say that phase is over.
What is your best asset?
Trying to see the good in everyone. I try to assume the best intentions in everyone I meet and as it turns out I have met a lot of amazing people this way. My best physical asset would be my smile and skin tone – I'm very olive all year round.
When do you feel sexy?
When I am feeling confident – confidence is always sexy. I'm feeling confident when I'm feeling healthy and clear-minded. Self love is so important to me and when I'm eating well, exercising, meditating… I'm feeling healthy.

What's the freakiest thing someone has sent to you via social media?
I actually have a lot of DM's about women in diaper fetishes and I can't say anything has creeped me out more.
Would you ever date one of your followers?
Yes, of course.
Describe your ideal date?
A picnic on a quiet beach, comfy clothes, blankets, good plant based food and quality conversation – past all the small talk.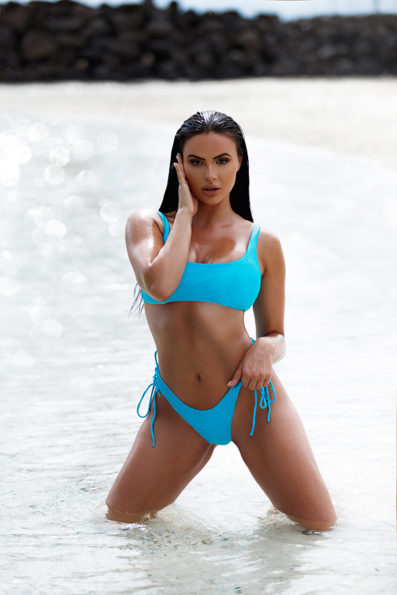 What do you look for in a man?
Someone who can make me laugh and who I can make laugh, so we can constantly be laughing at each other. And loyalty, obviously.
Whats next for you?
Continue travelling, modelling and I'm also looking at launching an online business although the details are a secret for now.
STATUS UPDATE
NAME: Emma Surrich
LIVES: Sydney, NSW
FIVE-WORD SELF-DESCRIPTION: "Compassionate, sexy, dorky, spiritual and adventurous."
GO-TO DRINK: "My all-time favourite drink is a Lychee Martini."
LIFE MOTTO: "There are two ways to live your life – one is as though nothing is a miracle, the other is as though everything is a miracle."
HOBBIES: "Yoga, dancing, reading, fitness, making people laugh."
PHOBIAS: "Public speaking and supernatural stuff
INSTAGRAM/SNAPCHAT: @emmasurrich
Photographed by Rocky Batchelor
Produced and Styled by Belinda Roelofs
Hair & make-up by Simmy Carr
Lingerie & bikinis by Mary Holland Lingerie
Videography by Alex Scapens
Shot on location at Taumeasina Island Resort
For the full article grab the May 2020 issue of MAXIM Australia from newsagents and convenience locations. Subscribe here.