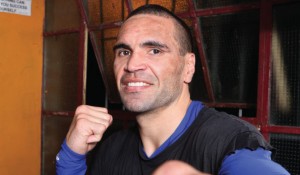 Bold boxer Anthony Mundine speaks about shaping-up, staying clean, and what the future holds for his 36-year-old self

You've been getting lighter and lighter since you started fighting in 2000. That's not normally the way it works.
I think it's because I'm finally starting to get a fighter's physique. It's been a big change for me – from when I was 86kg playing league to my current fight weight under 70kg. It's taken 10 years.
How have you stripped it off?
It's all down to diet, man. You have to make sure you eat the right foods. Get rid of all the carbohydrates in your diet. I only take in carbs before I train. I've learned over the years what's good for my body and what's not.
Do you ever still find yourself coming into a weigh-in heavy?
Sometimes, but I just dry out completely. Drink nothing, have a training session, then sit in the sauna. It seriously gives you the grumps but a lot of fighters go through it.
You're 36 years old. Can you feel your body changing with the years?
I'm actually more explosive than I've ever been. I probably had more raw strength then, but now I'm finally getting used to this weight. I'm still picking up speed and speed is power – speed kills in this game. Ask my sparring partners. Ask my last two opponents. I'm more explosive and I'm coming to knock people out.
Being well past 30, have you changed the way you train?
Yeah, I'm right into doing calisthenics. I don't believe in weights at all. For me, it's push-ups, chin-ups, sit-ups, all exercises using my body weight every day, morning and night. I do 100 push-ups in the morning, 100 at night. In between, when I'm bored, I'll just go and do chin-ups and sit-ups. It's good for the mind, good for the body.
A lot of older boxers do stuff like yoga and Pilates. Do you?
I should, but I don't have the patience. Also, I have a bad hip, and things like that just make me uncomfortable.
You've had surgeries on your hip that have threatened to end your career. Is it still getting worse?
It is what it is. It's just an old arthritic hip with a lot of wear and tear. Nothing is forever, man – except God. I still think I have five years in me. I'll reassess at 40. I just want the opportunity to prove myself before I can't do it anymore.
How come there are a lot of older boxers in big fights these days?
Fighters now know what they need to do to stay at the top of the game. You just need to make sure you don't abuse your body, work hard in a smart way, and don't let the toxins into your body. Age ain't nothing but a number! I never drank, never smoked, never did drugs. I'm Mr Clean Living. All I do is train and commit myself and I'm dedicating myself two-fold after the upset with Garth Wood.
What was your first feeling after realising The Contender winner Garth Wood had knocked you out last year.
I gotta get this sucker back! It was embarrassing because he wasn't in my class. I didn't think he had it in him to beat me, and he certainly didn't have it in him to do it twice. I knew the man had only a puncher's chance – and he took it. He's like Danny Green. He got lucky on that night and I wanted to prove that I was better – not five fights down the line, not 10 fights down the line, but straight away.
Still, it must have been hard to cop.
What can you do? What's happened can't be undone. All the greats get beat. Robinson, Ali. Only a few get away undefeated. When I look back, I was vulnerable. I lost one fight in six years and I was on a huge winning streak. I was letting faults get into my art because I was getting lazy and wasn't paying attention to detail. The next three years are going to be big for me.
Do you think people will stop caring about you if you lose again?
There's no room for error anymore. I want to thank Garth Wood – he woke me up from this contented sleep. I wasn't paying the attention to my art that I should. No more rematches – and no more losses. This is a very important time for me. I'm on a journey – just me and God.
Why do you reckon you're one of Australia's most controversial athletes?
The media want to portray and dictate who are the champions and I don't let them. I'm outspoken, Aboriginal and a Muslim – that's a trifecta that they hate. I'm the man on the streets and my credibility there is second to none.
There's an argument you've made most of your money by being outspoken.
If I towed the line, I would have made more. I would have got sponsorships. Look at Danny Green. Casinos went behind him and the government to pay for that Roy Jones Jr fight. That would never have been me. I would have never got in bed with that crap – but they wouldn't have asked anyway.
You've had more than 40 fights now. Are you worried about permanent damage?
There's nothing to tell me I've taken any damage. I don't slur my words. I'm as sharp as I ever was. I don't get beat up. I hardly get hit. When I've been KO'ed, it's been one punch. I haven't been punched and punched and punched.
Even so, they say the fighter's always the last to know.
I can't think about it. There's no room if you're a warrior. When you think negatively, negative things happen to you.
To grab a digital copy CLICK HERE. All past issues available for download.
To subscribe CLICK HERE . Australian residents only.
iPad Application also available. CLICK HERE. All past issues available for download.