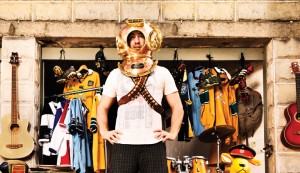 Wallaby Rocky Elsom is more confident about our World Cup chances than giving girl advice…
How are you different to Wallabies skippers from past World Cups?
Stirling Mortlock added a lot of energy. It's not that I have no energy, but you won't find too many people who can compete with him in that respect – he was always pumped. George Gregan was very calm and composed. I'm probably a little mellower, like him.
Unlike those two, you have hair.
And it's thick, too. Sometimes I struggle to run my fingers through it. It's been a while since we've had a captain with hair – not since John Eales. And didn't John have lovely locks?
winning World Cup matches?
In the past, it's been defence. However, interpretations of some laws have changed which have allowed for a more attacking style of football. Defensively, we've got some talent. Benn Robinson [originally ruled out with an ACL injury] might be back, which won't hurt us.
It's the World Cup Final and you're down by 20 points at halftime. What do you say to your team?
I don't know what I'd say there. I'm more off-the-cuff.
Maybe you could use a quote from a sports flick. Speaking of which, what's your favourite Rocky movie, Rocky?
Rocky IV is one of the great films of the Rocky franchise. Firstly, because of what he had to do to beat Drago, who was obviously on the juice and representing all that's bad in sport. But also the work it did for public relations between the United States and Russia at the time – mostly because of what Rocky says in the ring after he wins. It hit home for a few people, particularly around the end of the Cold War. It had more of an impact than people realise.
Who will the Wallabies play in the final and what will decide the match?
If I said anything other than I don't know I'd be lying. Just so long as we're there.
Besides thanking your family, teammates, sponsors and the losing team, what else will your victory speech include?
Obviously, I'd thank MAXIM.
Naturally. At 197cm and 106kg, you're a monstrous human being. Are there any players who intimidate you?
I don't think there are too many players who get intimidated – it's not like under-7s. But I do remember when I was younger and we used to play against [former All Black] Jerry Collins – no-one would ever put a shot on him. It's sort of like [NRL player] Petero Civoniceva. So we'd always kick-off to him and try and line him up, but then he would just come back at you and you just never seemed to be able to put one on him. He was like that his whole career and he left before anyone was ever able to get a good shot on him. It's disappointing.
Well, you could always try bulking up even more. What junk food do you love?
They wouldn't like that I call it junk food, but I'd say Mexican. It's fatty, but I don't have an issue with that. At Macca's I'd probably go for those apple pies, but they're always too hot.
Josh Rakic