In their new book Wild Dives, NICK AND CAROLINE ROBERTSON-BROWN take the reader to remote locations to experience some of the best, and weirdest, underwater spectacles and adventures from around the world. In this special edited extract for MAXIM they take an in-depth look at five of the best…
MEXICO: Playing Simon Says With A Manta Ray In Socorro
Socorro is a volcanic island that is part of the Revillagigedo Archipelago in the Pacific Ocean. It takes a 36-hour boat ride to reach these islands, which are located some 390km off the coast of mainland Mexico. It is a remote and rugged destination that can only be visited by liveaboard. The islands are a marine reserve and have also been designated as a UNESCO World Heritage Site.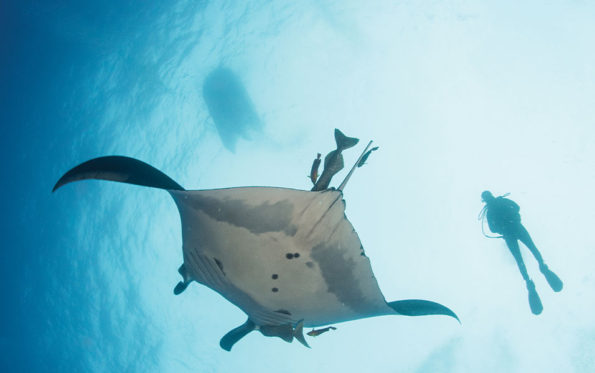 GENERAL DIVING
The diving here can be challenging with strong currents, surge and large waves. As it is also about as remote as you can get, so much so that special procedures are put in place where every diver has to wear a GPS location device in case they drift out of sight of the boat. Underwater, the topography is impressive. These volcanic islands continue their rugged form below the water with huge rock formations that get battered by the waves. Some pinnacles rise up out of the water, and some cannot be seen from the surface, but these islands in the middle of the Pacific Ocean attract an incredible array of pelagic marine life.
On any single dive you might encounter four or five species of shark. Humpback Whales can be heard singing as you dive, and if you are really lucky you might even encounter one underwater. Dolphins are abundant here and often approach divers. Huge schools of fish swirl near to the safety of the rocks, and Orcas have also been known to hunt here. You can even night snorkel with Silky Sharks.
The most compelling reason that divers put this remote destination on their wish list, however, is for the Giant Mantas that frequent all the dive sites along the archipelago. We dived San Benedicto, Socorro and Roca Partida islands on our itinerary. Each one of these islands has amazing diving to offer. On Roca Partida you will find whitetip sharks piled on top of each other trying to get some rest in the small cuttings in the rocks that offer protection from the currents and surge. San Benedicto can offer large numbers of manta rays on every dive, but it is Socorro that really impresses with incredible encounters every single time.
THE WILD DIVE
During the long boat journey to reach the islands various members of our liveaboard crew presented talks in the evenings on the wildlife that we may encounter. Among the specialists on board was a marine biologist whose specialism was in manta rays. On the evening before we arrived at 'El Boiler' he spoke to us at some length and gave us scores of fascinating facts and a mass of information about these incredible creatures.
The Giant Manta Ray is the largest ray in the world and its wing-span can exceed seven metres. They have the largest brain of any fish (relative to their size) and to assist in keeping all parts of the brain active, even in really cold conditions, they have blood vessels that are routed to supply heat to all the principal parts of the brain. Our guide also went on to say that these mantas are truly intelligent and will even make efforts to communicate with us. As a biologist with an MSc in animal behaviour, I was more than a little sceptical about this final part. However, my principal emotion was one of excitement at the prospect of finally getting into the water with these magnificent ocean wanderers and experiencing a close encounter.
The giant mantas in this area are known to be familiar with humans and to regularly approach divers. They are inquisitive and docile, and it appears that they like the bubbles that divers exhale brushing up on their undersides.
To reach El Boiler, one of the most famous dive sites of Socorro and the highlight of the whole trip, we had to transfer from our large liveaboard to a small RIB, carrying six divers out to a pinnacle that does not quite break the surface. Once in position our guide gave us the countdown and we all rolled back into the Pacific Ocean together. I looked down and immediately saw a young Whale Shark directly beneath us. It was around four metres in length and not at all bothered by our presence in the water. In fact my buddy, who was focussing on getting his camera set up for the dive, did not see it until he was on top of it. Still it seemed happy to swim along with us for a while.
In the distance we spotted two dolphins as they disappeared into the blue. We had only been under the water for a matter of minutes and it was already one of the best dives I had ever been on. Divers who ventured a little deeper reported back after the dive that they had also seen a Tiger Shark. We stayed fairly shallow and waited in a sheltered area near the rocky wall. Alongside us there were bright orange Clarionfish waiting for the same event as us – the arrival of the manta rays. We did not have to wait long because very soon two large mantas were soaring towards us. The Clarionfish darted out into the water to meet them, and to begin their task of cleaning them of parasites.
We simply waited, hanging in mid-water, and paused for them to approach us. They were huge, with eyes the size of a softball, and they would slowly glide past looking directly into your eyes as if they were attempting to communicate. One suddenly stopped directly in front of me as I took a few shots before a thought popped into my head: What if I really could communicate with a Giant Manta Ray? How would that work? I did the only thing I could think of at the time and spread my body out, arms and legs as wide as they would go as if I was doing an underwater star-jump. The manta stopped and looked and then reared upwards, manoeuvring so that it too was vertical in the water, its wings stretched out directly in front of me. I could not believe it. Surely this was a fluke?
I bent one arm inwards and waited. Sure enough, the manta bent its corresponding wing and waved back. This really was hard to comprehend. Was this manta really playing 'Simon Says' with me? I put my arm in front of my face and waggled it in a wavy motion and paused, barely able to breathe as I waited to see what the manta would do. It did not move its wings, but instead unfurled is cephalic lobe and waggled it back at me. I was overwhelmed and could feel my hairs standing up on end and my eyes filling with tears. I had communicated with a Giant Manta Ray. Obviously my emotions were not of interest to the manta as it got bored and swam off to the next diver to check out their bubbles. Recounting this story still gives me goose bumps and it will always be one of the most amazing dives of my life.
FIJI: Mind-Blowing Coral
Fiji is an island nation which forms an archipelago that is made up of more than 300 islands in Melanesia in the South Pacific. It is famous for its golden beaches fringed by palm trees, its clear blue water and its rugged and lush volcanic hills. It is part of the wider region known as Oceania. Fiji is one of those magical places that can be found on many people's bucket lists of places to visit, and it offers the traveller a host of experiences — whether they want to relax in luxury or be more adventurous, there is something for everyone. Surfers come to ride the waves, you can partake in a natural spa of hot springs and bubbling mud baths which they say will knock 10 years off you (it didn't work for me!), or join in a local kava ceremony which is based around a mildly narcotic drink made from pepper roots that makes your lips tingle and relaxes your body. The landscape and wildlife are as rich and diverse as the local culture and history.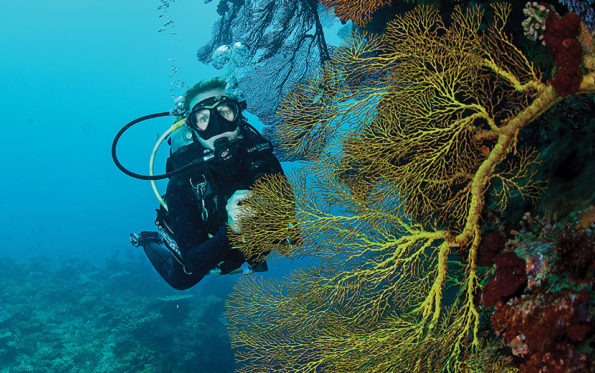 GENERAL DIVING
The diving in Fiji is right up there as one of the top activities to include on any traveller's itinerary. It is probably most famous for its vibrant coral reefs, but many people also want to see the large marine life that inhabits these waters. On the main island of Viti Levu, in a place called Beqa Lagoon (pronounced benga), you can dive with dozens of Bull Sharks. The area has been made a marine reserve and the locals have a huge respect and love of the sharks that frequent these waters.
Off the island of Kadavu, on the Great Astrolabe Reef, you can snorkel or dive with manta rays, and off Taveuni you can dive the world-famous Rainbow Reef and White Wall. There are so many great dive sites around these islands that it would take many trips or a long stay in order to appreciate them all. On top of this, the region is a hot-spot for Humpback Whales and other impressive marine life.
THE WILD DIVE
We did so much great diving on the three Fijian islands we visited that it still sits as one of our favourite diving destinations. However, coming to the end of our trip we found ourselves on the main island of Viti Levu, staying in the Pacific Harbour area. We arrived at our hotel in the pouring rain, and even though it was just a couple of steps from the taxi to the hotel reception we looked like drowned rats as we dashed in to get some cover. Tropical rainstorms, as anyone who has experienced one knows, can be intense! Once we had got settled into our room and dried off the weather had magically cleared and we sat under a perfect blue sky and then started to relax as the sun set. While enjoying a cool beer with our hosts they asked us where we would like to dive the next morning. We suggested that they should take us to their own favourite location to kick off this part of our trip, and so it was agreed that we would head to a dive site called Fantasea 1 early the next morning.
The following morning we woke to a beautiful day with the sun shining and the seas flat calm. We were excited to be diving a new destination for us. The dive site was adjacent to a small island called Yanuka which would provide us with a place to moor the boat between dives. Our guides eagerly told us that Fantasea 1 was their favourite dive because the coral was like no other dive site they had ever seen, and these guys had worked in a fair number of dive locations. Fiji is famous for its coral and we had already dived several incredible sites, but we were willing to believe them, as this small pinnacle that did not quite reach the surface certainly sounded wonderful. I got into my gear, grabbed my camera, and jumped into the water.
As I waited at the surface for my buddy and guide to join me, I dropped my head into the water and looked down at the reef below – the sight was amazing, mind-blowing and absolutely stunning. Every inch of the top of the pinnacle was covered in soft corals and anemones, all lightly swaying in time with the gentle waves. I was eager to explore more and as we descended, and directed our lights onto it, it just got better and better. As we descended further, the soft coral gave way to huge gorgonians and whip corals. Fish darted in and out of the reef, using the corals as protection. The scene so vivid – with bright pinks, oranges, reds, purples – that it was hard to believe that the reef was real.
As an experienced dive writer and journalist I never thought that coral alone would be enough to blow my mind on a dive, but Fiji is different and it certainly did. It makes your senses leap to attention, and I just wanted to take some time to hover in mid-water and let it all soak in. Back on the boat the dive guides glanced at each other and laughed as we eagerly chattered about what we had seen. For a dive guide, the excited babble of the divers after a dive is always a great indicator of how much they had enjoyed it, and we have seen so many fabulous places that we cannot be the easiest to please. However, in this case they were right all along — this really is a special dive site.
THE BAHAMAS: Bimini's Wild Dolphin's
Located in the far west of the archipelago, Bimini is closest group of Bahamian islands to the Florida coastline. Bimini has two main islands, North and South, in addition to a series of small cays. North Bimini in particular is famous for being Hemingway's favourite getaway, but less well known is the fact that the final scene from the film Silence of the Lambs was shot here — the one where Hannibal Lecter (Anthony Hopkins) talks on the phone to Clarice Starling (Jodie Foster). "I have to go now Clarice, I'm having an old friend for dinner."
It is also believed that Bimini Road, a series of artificial blocks off the coast of North Bimini, could be the remains of the road to the lost city of Atlantis. What is certain is that Bimini is famous for its sharks and is home to the world- famous Bimini Sharklab that conducts invaluable research into shark behaviour and biology.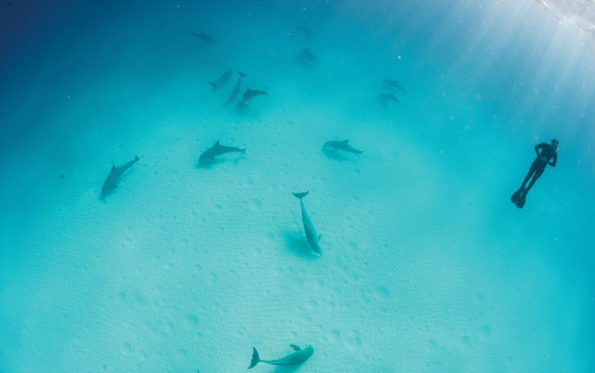 GENERAL DIVING
Among the diving fraternity Bimini is most famous for its Great Hammerhead Sharks, which visit the islands for a few months each winter. There are plenty of other species of shark that reside here permanently, and this is why one of the leading global shark research facilities is based on South Bimini. Divers flock here to dive with the sharks in warm shallow clear blue water, and 'shark photography' is a major form of income to the Bahamas. Shark fishing has been banned throughout the islands of the Bahamas since 2011 and hefty fines are imposed on anyone found landing a shark of any species.
There are shallow coral reefs around the islands of Bimini, as well as an impressive wall dive that plummets more than 1,200m (4,000ft) below you. These islands are also home to important mangrove areas which are nurseries for reef fish and sharks, as well as providing the islands with protection from storms. A number of shipwrecks, both deliberately and accidentally sunk, have created havens for marine life.
THE WILD DIVE
Sometimes the most simple of experiences can bring the most pleasure and this was certainly the case on a sunny afternoon in Bimini. We were asked if we would like to join a boat going out to see if they could find any wild dolphins. The waters around Bimini have resident populations of both Bottlenose and Atlantic Spotted Dolphins and the latter are renowned for interacting with snorkellers and free-divers in the water. There wasn't much to think about really, so we ditched our diving equipment, grabbed our masks, snorkels, fins and cameras, and jumped aboard one of the waiting dive boats. We travelled north past the Bimini Islands until we arrived at the western edge of the Great Bahama Bank. Our captain told us to start looking for any signs of dolphins leaping out of the water, and as we peered into the sunlit waves it was not long before we caught our first glimpse.
At first our captain did not appear to be as keen as we were, and this was because the dolphin pod we had spotted were Bottlenose Dolphins which are generally not as curious as their Spotted cousins. However, this particular group seemed to be staying in one place and everyone on the boat was keen to jump in to have a look. Bowing to pressure, he cut the engines, brought the boat to a stop and declared the 'pool' to be open. We did not need any further encouragement and were finned and masked-up and in the water in a matter of seconds. Around 20 dolphins were hunting using echo-location on the sandy seabed to find their hidden meal.
You could hear and feel the dolphins' sonar clicking away as they searched, and then you would see one plunge its head, or rostrum, into the sand, flapping its tail fins to push deeper. Eventually it would come away with a small fish as its prize. It was mesmerising to watch. Dolphins need to come to the surface to breathe and so, as we floated at the surface watching, every now and then a member of the pod would come up towards us and, rather than avoiding us, would swim close around us for a few minutes before returning to the job of feeding.
This experience would have been special enough, but then we spotted a baby dolphin. It could only have been a few weeks old, perhaps even just a few days. It was tiny! Always accompanied by an adult, with the adult positioned between us and the baby, it would come up to breathe and swim at the surface. As the pod became more tolerant of us the adults and youngster got closer and closer until we had an incredible close-up swim past with baby and escorts swimming right past our masks. It was incredible. Far too soon our skipper was encouraging us to come back on to the boat and we were amazed to find we have been in the water for hours.
This is how dolphins should be experienced. Wild and free, not in captivity where they have been ripped from their families in order to 'entertain' humans. We did not get to see the Atlantic Spotted Dolphins we had hoped for, and yet we had still had an incredible encounter. We will just have to go back and do it all again some time.
THE BAHAMAS: Bull Sharks On A Windy Day
Bimini is part of the Bahamas chain of islands that is the closest to the U.S.A., just under 80km off the Florida coast. It has been a popular tourist destination for decades and has seen its fair share of the rich and famous taking advantage of the beautiful weather. Bimini was reputed to be Ernest Hemingway's favourite place to escape and is where he wrote Islands in the Stream. Martin Luther King wrote his Nobel Peace Prize acceptance speech whilst on the island and on his final visit also wrote his Sanitation Workers speech — the last speech he would ever give as it happens, as he was assassinated soon after. It is said that he knew he was going to die and also wrote part of his own eulogy during this same visit to Bimini.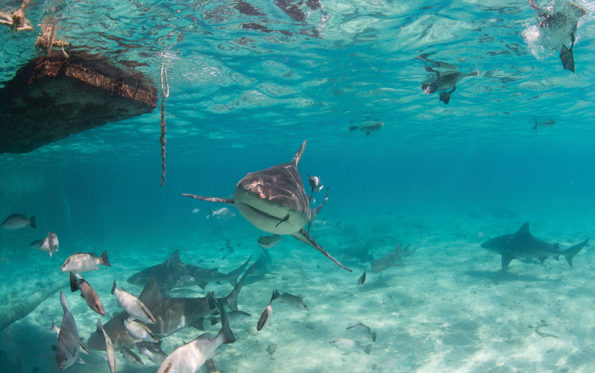 GENERAL DIVING
The diving in Bimini is famous for its incredible Great Hammerhead Shark encounters, but it also has a host of good reef diving and a number of wrecks to explore. The clear blue waters here are also home to wild dolphins and in the summer months, when the water is flat and calm, going out to snorkel with them is also a fabulous experience. Spotted Eagle Rays swim in the shallows and can often be seen aggregating in the narrow stretch of water that separates North Bimini from South Bimini. The sand banks between the islands are reputed to regularly give up ancient treasure and the marina area of North Bimini is also famous for its Bull Sharks.
THE WILD DIVE
As you arrive in Bimini in small plane flying relatively low you get a wonderful bird's-eye view of the low-lying islands of the Bahamas, fringed with white sandy beaches and the pale blue and turquoise shallow water leading into the dark blue deeper waters. It reminded me of my first visit to these magical islands while working on a dive boat as a divemaster. One of the divers in the group I was taking out asked if his wife could come along for the ride and I agreed that would be fine. As we pulled out of the dock she fished a collection of glass vials out of her handbag and asked me to slow the boat down.
As I brought the boat to a stop she dipped the vial in the water, sealed it up and dropped it back in her bag. A minute later she repeated this process and then just as we approached the dive site she asked me to stop once again. The suspense was too much for me and this time I had to ask, "What are you doing?" She replied, "I just had to show my friends back home all the different shades of blue the sea has here." I had no idea how to tell her how disappointed she was going to be when she looked at her results back on dry land!
On this trip, however, as I hauled my heavy dive and camera kit to the dive shop, I already knew that I was going to be disappointed. I was supposed to be going out to snorkel with Atlantic Spotted Dolphins but the wind had picked up and the seas were starting to get rough — these were not conditions to be snorkelling in. I dropped into the dive shop to check, just in case, but my suspicions were correct and the trip had already been cancelled. However, the owner tried to make it up to me and suggested that I might like try out a Bull Shark cage dive instead.
At the side of the dock, where fishermen often clean their catch and throw the unwanted bits into the sea, was a cage at the surface. Pelicans sat bobbing on the water hoping to get some fish scraps and beneath them I could see the outline of six big Bull Sharks. It was not what I had planned for my day, but sometimes, as any experienced diver knows, you just have to go with the flow. I donned a heavy weight belt, grabbed my mask and camera and slid into the cage. The dive shop owner handed me a long regulator hose attached to a tank that sat at the surface and I dropped down to the cage floor.
The water was clear and in front of me I could see the sharks circling and the feet of the pelicans paddling above me. One of the Bull Sharks had some pretty impressive scars on its nose and this one had all the attitude of the alpha, the other sharks deferring and moving out of its way. Scarface – the name I gave this shark in my head – also liked to come in close to the cage, perhaps checking out its reflection in the glass dome of my underwater camera. Bull Sharks are always impressive to see up close. They are bulky and all muscle, built for fast bursts of speed. As a shark approached the surface the pelicans would scatter, but then would soon be back again hoping to snatch a free snack and I wondered why the Bull Sharks did not attempt to eat them.
There was a queue of divers waiting to take their turn in the cage, due to the weather having stopped all the other diving and snorkelling activities Bimini has to offer and so soon I was being called out. It was not the way I had planned to spend my afternoon, but getting to see these jaw-droppingly impressive sharks up close in clear water was an exhilarating alternative.
THE BAHAMAS: Finally Getting To Dive With Tiger Sharks
Grand Bahama is the northernmost island in the Bahamas. It is a popular tourist destination, with typical white sandy beaches, plenty of night life and lots to do for those that want more than just to lounge in the sunshine by the pool or on the beach. It is surrounded by rich mangroves that help to protect the island from the worst of the hurricanes.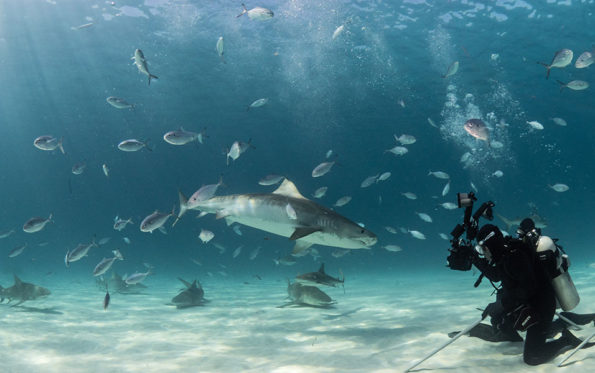 GENERAL DIVING
Grand Bahama has a host of excellent dive sites with varied experiences that include diving with sharks, exploring wrecks and enjoying reefs that sit just off the shoreline. One of the signature dives on Grand Bahama is Shark Alley, a site where several dive operators have been performing shark-feeding dives for decades. Now, if you dive in this area, regardless of whether there is any bait in the water, you will be sure to see plenty of Caribbean Reef Sharks patrolling the reef. Stingrays and large green moray eels also frequent this area, along with a large school of Horse-eyed Jacks. The shallow dive in clear blue warm water is high on many people's lists of favourite dive sites.
The reefs that surround the island form long fingers of rock formations covered in coral, with sandy channels in between. Here marine life thrives with delightfully varied creatures living on the reef including weird arrow crabs hiding in sponges, beautiful and delicate angelfish darting along the reef, bright parrotfish audibly chomping on the coral, and the oddly named Flamingo Tongue Snail eating soft corals.
Another very famous dive off the West End of Grand Bahama is Tiger Beach, which is named after the Tiger Sharks that frequent this area. Along with Tiger Sharks you may also encounter Caribbean Reef Sharks, Nurse Sharks, Bull Sharks, Great Hammerhead Sharks and Lemon Sharks here, so it is a perfect dive for those that love their sharks!
THE WILD DIVE
There are very few places in the world where you stand a good chance of diving with Tiger Sharks. It has been a dream of ours since we started diving over 20 years ago to be able to see these magnificent sharks up close and one that proved very hard to bring to fruition with the weather and animals proving less than cooperative. So it was with some excitement that we woke up to an early alarm that indicated today was the day. The boat ride was going to take between one and two hours depending on conditions, so we focused on getting our dive and camera gear ready and loaded onto the boat and then went to find coffee and breakfast for the journey.
Our group consisted of us, another diver we had met at our hotel, our captain and two dive guides, so we knew that if we got the chance this was the perfect small group for a great day out. As we arrived it was hard not to get overexcited. As I looked down through the clear blue shallow water I could already see Caribbean Reef Sharks and Lemon Sharks swimming under the boat.
As the crew start to chum the water it was time for us to set up our dive and prepare our underwater photo and video equipment. Soon I heard one of our dive guides ask "Is that one there?" while pointing to a larger shark swimming below. The first Tiger Shark had arrived. I slid into the water and made my way down to the pre-agreed spot on the sandy seabed. The view was incredible. Lemon Sharks joined us, lying on the sand and swimming lazily around our legs. Nurse Sharks stayed right next to the bait box. Caribbean Reef Sharks swam in circles, never straying too far from the alluring smell of the bait box. Then as I got my eye in I spotted my very first Tiger Shark in the distance. I could also see a Bull Shark, but this shark stayed away from us and was too nervous to come any closer as the first big Tiger Shark approached. Tiger Sharks are extremely beautiful. They get their name from the patterns on their sides that are similar to those of the eponymous big cat species, but these patterns fade as the Tiger Shark gets older and so the biggest of the individuals seen on this dive had very few of their striped markings still obviously visible. They are big sharks, with the largest reaching five metres in length. They are broad and imposing and on this dive they came very close indeed to the divers.
The dive was in fairly shallow water, between eight to 15 metres, and the water temperature was a balmy 28°C. I knelt on the sand completely mesmerised by the sharks swimming in front of me. Soon we had a second Tiger Shark that wanted to get closer and closer to the bait box and the divers. I had heard that these sharks are very used to divers and not at all shy in coming in close, and this proved to be true, with both Tiger Sharks making close passes in front of us or over our heads. All too soon our dive guide was signalling for us to head back to the surface.
The Tiger Sharks seemed to know the routine and drifted off into the distance, but the Lemon Sharks followed us up the line and stayed at the back of the boat as we changed over tanks and got ready to do it all again. With a long ride home we knew that we would have limited time on our second dive with the sharks, but I was already delighted with the encounters we'd had on the first dive, so I was much more relaxed second time around, enjoying the return of the Tiger Sharks swimming over the sand and seagrass at this incredible dive site. Finally, after many years of trying, my dream of seeing Tiger Sharks had come true. ■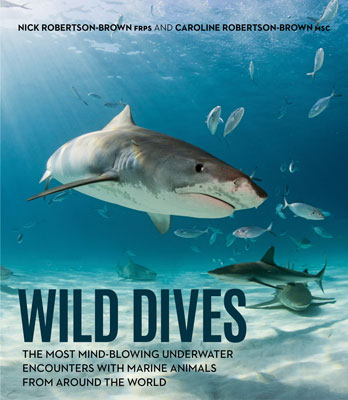 WILD DIVES by Nick and Caroline Robertson-Brown, New Holland Publishers RRP $35.00, is available from all good book retailers or online at newhollandpublishers.com
For the full article grab the February 2020 issue of MAXIM Australia from newsagents and convenience locations. Subscribe here.