She's back and she's still got it! Yes, the former Baywatch beauty returns to MAXIM to talk about her foundation and how the world can be a better place, Julian Assange and our PM Scott Morrison, plus being the star of the latest Ultra Tune television commercial and much, much more…
Hello, Pamela, welcome back! How does it feel to be on the cover of MAXIM after all these years?
After all these years? That's a funny way to start off! I don't think of time, dates – life flies by in a blur. I'm always taking pictures, taking on creative projects and just having fun. I'm blessed you're still interested!
Well, you've clearly still got it. You look gorgeous and it's a great photo shoot. What did you enjoy most about it?
I love the photographer, Carmelo – he's an angel – and I love Australia. I loved being on a boat on the Gold Coast – I heard it is pretty sharky where we were shooting this feature but I enjoyed swimming off the boat. I also love all the swimwear – it's athletic, chic and simple.
Did you approach this shoot any differently to the millions you've done in the past?
I don't approach anything differently. I just act the way I would without the camera there – I'd be the same around my friends. I just kept the focus on feeling good and I enjoyed the sun. Being outdoors makes me happy and healthy — it's sexy.
How do you keep yourself looking so fit and fantastic?
I try to keep on a bit of weight – I think it's better on me.
Tell us about your role in the new Ultra Tune TV commercial out this month.
I was presented the idea by my publicist who told me it was a funny and popular series of commercials. I did see the script and it was cute, simple and when I heard Australia I thought it would be a good opportunity to visit.
Any funny behind-the-scenes anecdotes you can share with us?
Nothing crazy – it was very easy, professional and everyone was cool, very sweet. And the Ultra Tune Rubber Girls were all very nice, beautiful girls. I did pair some high heels with my wetsuit – I love a full wetsuit with zipper in the front and high heels — and after a day of filming I did have a drink in the bar.
What are your thoughts about previous Ultra Tune ads being labelled "sexist", "out of touch" and supposedly portraying women in an outdated manner?
I never thought of Aussies as uptight.
You filmed the ad on The Gold Coast — what did you enjoy most about this?
My trip was quicker than originally planned and I was only in Australia a few nights. I came from Paris so I was a bit jet lagged, but we had a beautiful day on the beach and the next day on the boat – it was nice to be there at that time of the year. I wish I was able to see more but I've been to Australia many times and I've always loved it. The people are awesome – they remind me of Canadians and I feel comfortable.
Other than hanging out with the Ultra Tune crew in the Gold Coast, what else did you get up to during your short visit here?
I came for many reasons and accomplished what I set out to do. Like I said, it was a good reason to come to Australia, take some meetings to help Julian [Assange] and put him more in people's minds. I usually have other things in mind when I work and I was also happy to donate to the Koala rescue – it was very sad to see the bushfires and devastation in Australia. When I travel I always try to find an animal cause to support.
Australia no doubt thanks you for your contribution in helping the bushfire victims. Tell us more about The Pamela Anderson Foundation (www.pamelaandersonfoundation.org) and your passion for human, animal and environmental rights.
I apply all I learn to all I do. I have a platform and I understand my limits.
Speaking of Julian Assange — where is everything at with him and our Prime Minister Scott Morrison?
I'm confused as to how the Prime Minister has just decided to ignore this. It says a lot. It really looks as though America is running your government. I pray Trump decides to do the right thing. Everything is a mess and Julian is caught in the middle. It's not fair. I wish I could speak to Julian about all the topics of the world – he such an informed and cool guy and he's very misunderstood. I can't do much more than draw attention – I'm not a lawyer, only a friend. I pray Australia will do more for him. I feel like Julian is already more spirit than body. We could lose him and that will be a huge loss, especially when the world really needs someone like him. So much.
Have you heard from our PM?
He responded, but with nothing interesting.
If you could ask Donald Trump anything what would it be?
To be the Hero of the world and to rethink his legacy while he is in power. To help to save the planet and freedom of press — to grant Julian Assange clemency.
Besides appearing in Ultra Tune ads and your foundation, what else have you been doing these days?
I'm working on a sex positive project. It's about sex/tech/love – I'm dedicated to helping people embrace a natural and healthy modern world when it comes to romance and love.
Being an iconic sex symbol who clearly has a wealth of experience. So, we have to ask — what do you think of the #MeToo movement? Was it a longtime coming?
I think we need to take action when we are uncomfortable and be careful when dealing with people in power – to be safe. And it's our job to teach our children respect with respect.
You've worked with some amazing people over the years. Who has been the best experience?
Vivienne Westwood – she has taught me a lot about activism. She encourages me to read and go to museums. It's the best advice, although I'm already an avid reader. She sends me books of all kinds. If you read you'll never be nothing – you'll always have a job.
When you watch classic footage from Baywatch of you running along the beach in slow-motion wearing that red one-piece swimsuit, what goes through your mind?
That I must save a life.
You've had your fair share of controversy in your career, what's the funniest rumour you've ever heard about yourself?
That I was an alien here to teach men a lesson. News of the World listed this when I first arrived to Hollywood.
From your vast experience over the years what have you learned about the following…
MEN?
I'm still learning but I love books like Iron John. I have boys, so male psychology is an interest and I study it a lot.
MONEY?
It doesn't impress me.
SOCIAL MEDIA?
A good tool for activism.
HOLLYWOOD?
Somewhere I only want to visit.
What's the biggest misconception about Hollywood?
It's fantasy, so there are none.
What's one thing men should always remember about women?
That we are complex, sensual creatures — but that's just a generalisation. Good luck!
How does a man win his way to Pamela Anderson's heart?
Show me something new. Every person is a journey into the unknown. It's about trust in the wildness – sometimes this takes patience, confidence and looking at the big picture. But I think it goes both ways. I lose interest easily – I want a man to teach me. I want to be treated as a woman. That's a slippery slope these days – it's hard for men to know what they "can" do and it's a bit paralysing in this progressive movement. But equality doesn't mean feminisation – just be a man, be sensitive, be strong, be wise and just be kind.
What is one thing you'd change about the world?
I wish people love in their relationships. We are stronger in pairs to face the world – human connection, love, empathy and kindness is most important.
What's your New Year's resolution?
To explore yoga seriously. I'm starting the year in India and then an Ayurvedic cleanse — this year is going to be interesting. I'm open and willing — this is the first step.
Finally, any exciting projects on the horizon you can share with us?
Many. This is the most creative time in my life. ■
STATUS UPDATE
NAME: Pamela Denise Anderson
BORN: July 1, 1967
HOMETOWN: Ladysmith, BC, Canada
LIVES: "Gypsy."
FIVE WORD SELF-DESCRIPTION: "Alien, weird, poetic, loving, artist."
TOP THREE CAREER HIGHLIGHTS: "Baywatch, Barb Wire and V.I.P."
LIFE MOTTO: "Be free."
INSTAGRAM: @pamelaanderson
TWITTER: @pamfoundation
WEBSITE: pamelaandersonfoundation.org
Support the Pamela Anderson Foundation by purchasing a hoodie at ShopPAF.com. This month, all profits will go toward aid for the Australian bushfires
PHOTOGRAPHED BY CARMELO REDONDO
INTERVIEW SANTI PINTADO
HAIR & MAKE-UP TANIA DE ROSS (@DEROSSARTISTRY)
STYLING JODIE LEE (@JODIELEEMAKEUP, @JODIELEEOFFICAL) & TENEILL BELL (@TENEILLBELL)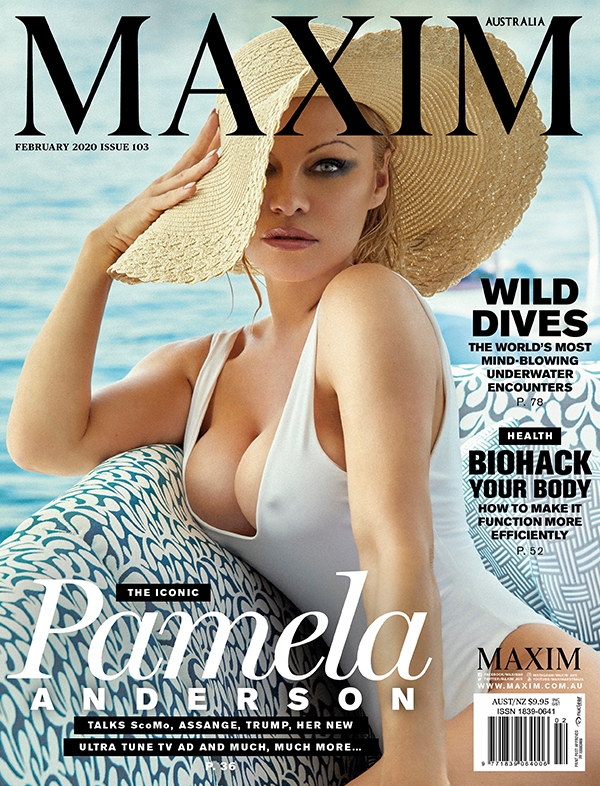 For the full article grab the February 2020 issue of MAXIM Australia from newsagents and convenience locations. Subscribe here.