At the advent of a new millennium architects have pushed the limits of invention and originally, boasting breathtaking skylines of sail-shaped buildings, dancing towers and twisting skyscrapers. In his new book, Audacious Architecture, Barry Stone takes a look at this new breed of architecture and trends with new aesthetics in the best contemporary buildings and structures the world has ever seen. Here's our top eight …
007 Elements
It sits at 9,974 feet above sea level, inside the summit of Gaislachkogl Mountain in Sölden, Austria; a concrete hideaway that would be the envy of any Bond villain. Accessed via a high-speed cable car, 007 Elements by the Innsbruck-based architect Johann Obermoser is part museum, part interactive installation, and part mountaintop lair.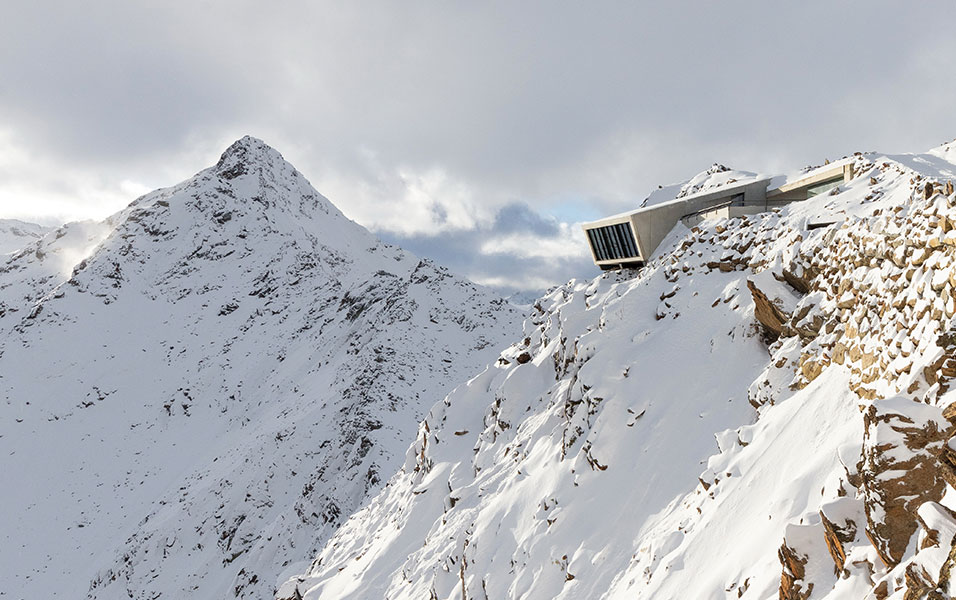 Inside you'll encounter nine separate galleries designed to provide you with the 007 Elements 'Experience'. Designed by Tino Schaedler at the creative agency Optimist Inc. And Neal Callow, the James Bond Art Director on the last four Bond films, each gallery showcases an 'element' that is characteristic of a Bond film in a homage to the Bond legacy through with a special emphasis on Spectre, the fourth film starring the current 007, Daniel Craig. As visitors progress through each gallery they are taken on a journey through the senses courtesy of a phalanx of lights, shadows, visual projections and disorientating soundscapes and perspectives that combine to deliver an immersive, theatrical experience. Every gallery is connected by ramps that take you in an imperceptibly downward direction, which has you exiting the mountain 30 feet below where you entered. On a mountaintop where cable cars continually bring in a fair amount of piste ski traffic, ramps are preferable to stairs.
To come here is to find yourself in a classic Bond-like landscape. Not only are you on an isolated, snow-covered European summit overlooking the Ötztal Alps, you're also right next to the iCE-Q Restaurant, which doubled as the Hoffler Klinik in Spectre. Almost the entire museum is buried within the mountain with only its entry and exit, a small viewing area and two large panoramic windows projecting beyond its rocky exterior.
Concrete, steel and glass are used throughout, giving the interior an austere though very Bond-like appearance. Galleries are divided by black stainless-steel doors, black perforated steel panels hang from the ceilings and act as sound dampeners, while beautiful volumes of angled case-concrete provide imposing spatial vistas.
Foro Boca
What's not to like about board-formed concrete? The process of patterning concrete in such a way as to create a wood-grained, board-like image, a textured, three-dimensional imprint to an otherwise cool, at surface is becoming an increasingly popular element in modern design – and is rarely seen put to better effect than in the exterior surfaces of the Foro Boca ('Forum at the Mouth') Concert Hall at the mouth of the Jamapa River in Boca del Río, in the Mexican state of Veracruz.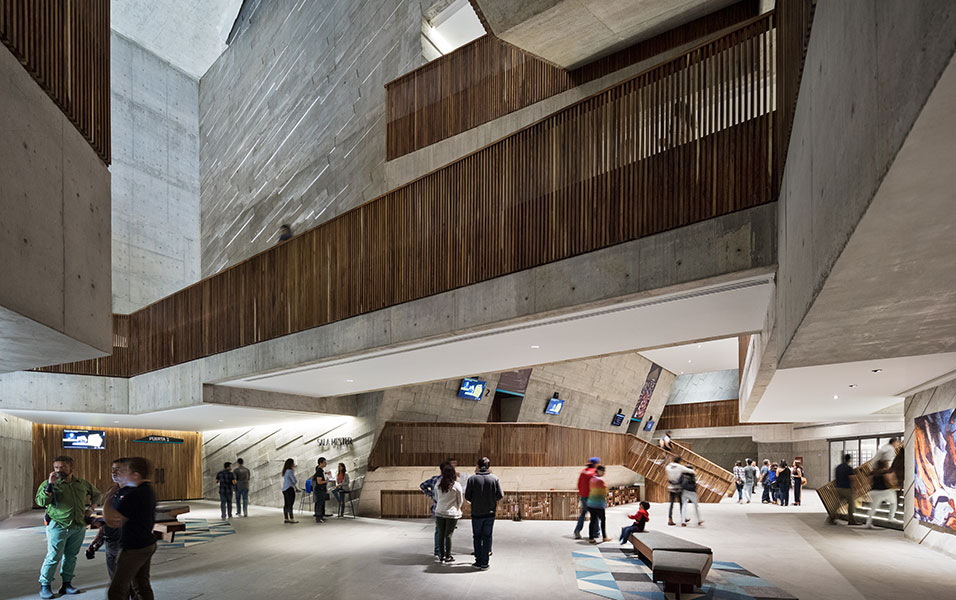 This triumphant building, now home to the Boca del Río Philharmonic Orchestra, is reminiscent of neolithic examples of 'monumental' architecture, the carving of structures from a single piece of rock, or the cutting and placement of multiple large stones. Looking like a series of sculptured, uplifted tectonic plates, the spirit of monumentalism seems alive and well on the Boca del Río waterfront. Foro Boca – which began conceptually as a single large box deconstructed into smaller volumes to provide it with scale when seen from the pier, beach and city – now rises up, its concrete exterior of gorgeously anchored floating volumes and angular walls exhibiting a rare degree of geometric purity, made all the more aesthetic – if not downright mesmerising – by the diagonal patterns of those 'wooden' concrete boards.
Foro Boca mountainous, a cluster of cubed volumes as jagged and block-like as the concrete blocks that line the town's coastal defences, its textured surface designed to develop a patina that will, in time, compliment the rocks along the nearby breakwater. At first glance it seems as though the building has no front or back, its entrance being hidden underneath a magnificent 7.5 foot-high cantilevered volume, which provides protection against the site's strong north winds at the same time it threatens to compress you with its sheer bulk.
Once you pass under it and into the foyer, however, the building opens up into an internal, light- filled void: a three-story atrium punctuated by carefully placed apertures that funnel and filter light down into the building's cave-like heart.
Once inside, three elements dominate: granite, concrete . . . and wood. A network of animated, slatted wooden walkways crisscross the interior, leading to various access points, while a welcoming lack of ornamentation concentrates your eyes on the form of the place, reminding you that here is a building so chock-full of confidence, so assured and pure in its design and purpose that to add anything would border on the negligent. You'll find no distractions here.
Morpheus Hotel
In architecture a building's structural elements – its columns, walls, etc… – are neither designed to be, nor are they meant to be, aesthetically pleasing. They exist to perform a function; they give a building its strength, its integrity, its rigidity. They stop it from falling down. Located out of sight in the structure's interior, their presence also allows for the building's façade, now relieved of any meddlesome load-bearing duties, to be made beautiful with endless variations of glazed exteriors and fanciful ornamentation. The façade becomes the building's makeup, its face to the world. But what if things were reversed? What if internal structural elements were placed not in a building's interior, where they are rarely seen and almost without exception grossly underappreciated, but on the outside for all to see? What if all the hidden engineering that allowed a structure to exist at all, became its façade? And not just functional – designed to be beautiful? And what impact would this radical inversion have upon its internal design, now that it is freed of all the annoying barriers it would otherwise have to avoid?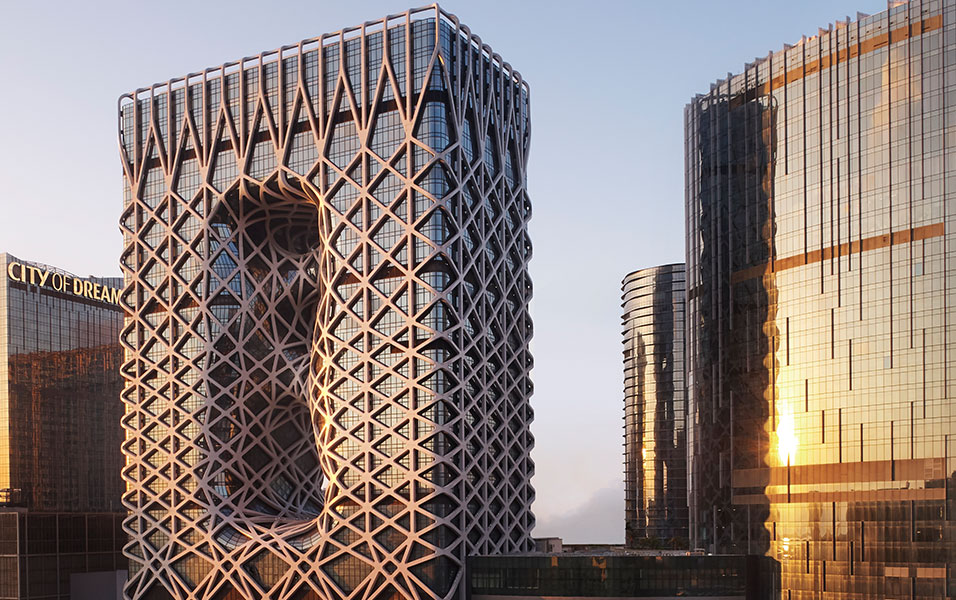 Welcome to the world of the architectural exoskeleton. Buildings with exoskeletons, such as the NEO Bankside residential development in London and the decades-old but still striking HSBC Headquarters in Hong Kong, will never lose their allure. Their con confidence, their bravado, are laid bare. They bring engineering out of the shadows. And few buildings on the planet have transformed the discipline of engineering and given it the celebrity status it deserves more than the Morpheus Hotel on the island of Macau, the masterpiece of Zaha Hadid Architects.
Built over the abandoned foundations of a condominium project that was never realised, the hotel was unveiled in June 2018 and set back from Macau's main Cotai Strip, lost little time in becoming one of the world's most identifiable buildings. Resembling a double helix the world's first free-form exoskeleton high-rise is immediately recognisable thanks to its unique geometric façade punctuated by three astonishing holes. Lauded for pioneering new approaches in the design of steel and aluminium exoskeletons, it is a sculptural triumph of form and function, a new kind of building designed as a singular extrusion emerging from the extant, abandoned foundations below.
What began as a traditional rectangular footprint quickly morphed into a 40-story building with two internal circulation cores set within a twisting monolithic volume that was able to have its freed-up interior 'carved out' into a series of sumptuous voids.
Centro Botin
"I wanted the building to fly," Renzo Piano once said of Centro Botín. And so it seems that it might, poised on the seafront in Santander in northern Spain looking like the swept-back wings of some ungainly, mechanical seabird. But when the great Italian architect was approached to build it, locals were worried that its bulk would obliterate their views of the Cantabrian Sea. They needn't have worried.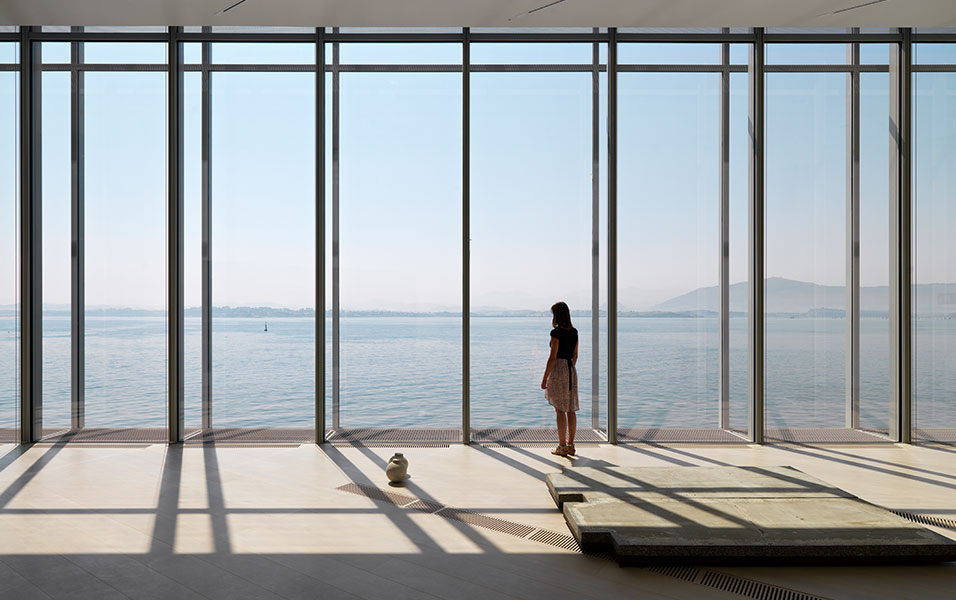 The museum would be raised up, levitating atop a network of 20 foot-high white pillars. Not only could you still see the water, you now had a choice of how much you could see. You could stand behind Centro Botín and look out from under it or, if you want to see more – much more – why not go inside and step out onto one of its external terraces? The city had been given a new vantage point.
It was Emilio Botín himself who suggested to the great Italian architect they eliminate the old coastal road – too long a blight; too long a barrier cutting off the city from its beloved bay – by placing it underground.
And why stop there? With the road gone, a commission could then be given to the renowned landscape designer Fernando Caruncho with a brief to double the size of the historic Pereda Gardens. This was, of course, sauce for the goose to Piano who loved nothing more than to facilitate the coming together of public spaces, to bring two or three or more ideas together to create something of greater consequence than the sum of its parts. What happened here on the waterfront in Santander was a cosmic 'Big Bang' of common sense town planning. And Centro Botín lit the fuse to it all.
A wholly private initiative of the Botín Foundation (Spain's most high-pro le private cultural foundation) Centro Botín, on the site of what used to be the old ferry port car park, is now home to the foundation's growing collection of contemporary art, an ongoing program of temporary exhibits, and various robust cultural education programs. In addition to its extensive exhibition spaces there are conference rooms, workspaces, a shop, a rooftop terrace, 300-seat auditorium, and even a restaurant founded by the doyen of local Cantabrian cuisine and Michelin-starred chef, Jésus Sánchez.
V&E Dundee
The construction process for any building is always a story in itself, but rarely more so than here in the radical, sculptural forms of V&A Dundee, Scotland's first design museum that has transformed the historic waterfront in the Scottish port city of Dundee. The building is without parallel and boasts a revolutionary design that would have been difficult to create even 10 years ago because of the technology required to build it and the precision of its engineering. It is the first building in the United Kingdom to be designed by the great Japanese architect Kengo Kuma, whose design won out in an international field of 120 entries.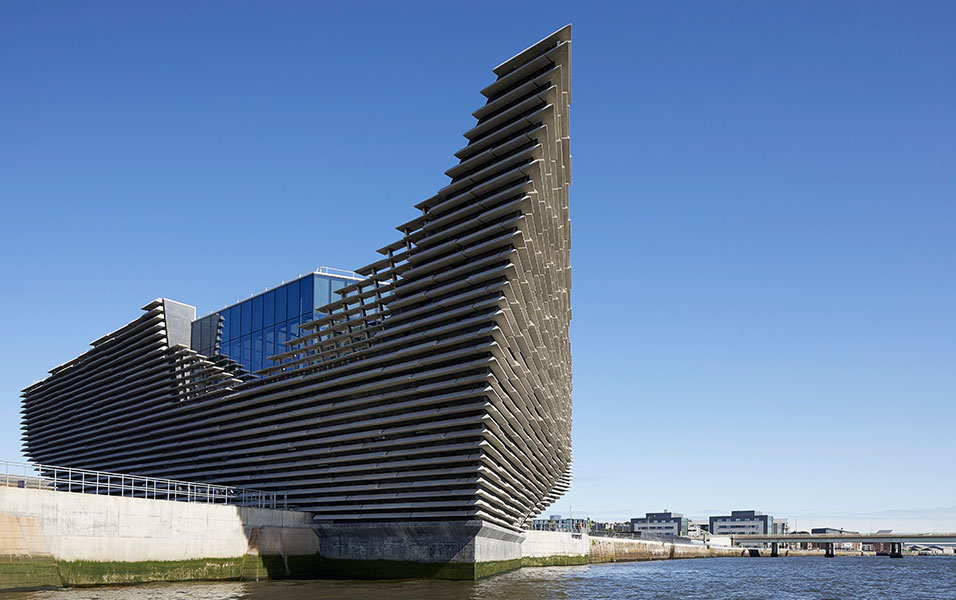 The Victoria & Albert (V&A) Dundee sits on a man-made peninsula on the northern banks of the Firth of Tay, a site made possible only after the construction of a temporary cofferdam (a watertight wall that allowed the draining of the river) before becoming a repository of more than 12,500 tonnes of rock, the building's weighty foundation. The dam, completed in May 2015, was the first hurdle in the museum's construction. The upper level was completed in October 2016, and the red and yellow formwork that had been enveloping it taken away in March 2017 (along with the cofferdam) finally giving the citizens of Dundee their first real glimpse at the building that would, in part, transform their city.
Next came the installation of almost 2500 cast stone panels, each poured in moulds and weighing as much as 3.3 tons, and individually secured to the structure's black concrete walls. The complexity of each unique piece required advanced 3D technology to ensure each would properly interlock with its neighbour. There's not one straight wall in any of the building's 21 external wall sections; not a single square foot of the façade that is the same as any other.
Yet it manages to defy its massive concrete-filled volumes because its inverted shape gives it a smaller than expected footprint. It balances 'unpropped', yet despite its incongruous bulk is at home here. Why? Because like all good architecture it respects its environment. It looks like a moored ship: a centuries- old oaken hulk that has it fitting in nicely amongst the marine structures of the Dundee waterfront including the RRS Discovery, the famous barque-rigged Antarctic steamship launched in 1901.
Harbin Opera House
Few building types symbolise a nation's economic coming of age quite like a skyscraper. They heralded a new can-do era in American industry when they began to alter the skylines of Chicago and New York in the 1930s, and such a transformation is happening again today in China, which will be home to more than 20 of the world's 50 tallest buildings by the end of 2020.
China's love affair with tall buildings is a testament to its burgeoning economy, its growing international relevance, and are a reflection of the heightened aspirations of an increasingly wealthy populace. But height isn't everything.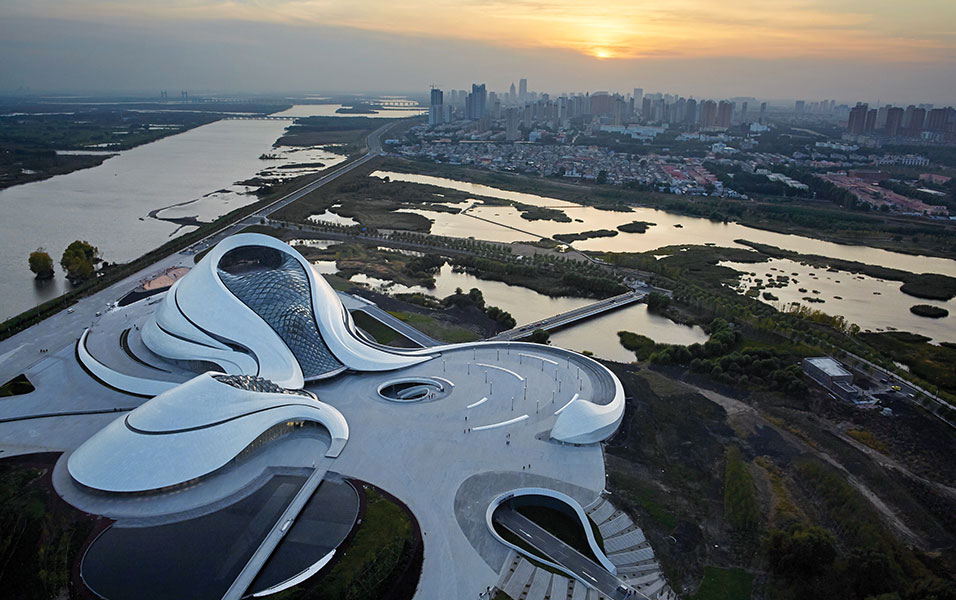 In fact, it's ironic, perhaps, that the building which, many argue, has done more to highlight China's new era of prosperity and sophistication isn't tall at all. It doesn't have to be. And you only have to look at it to know why.
MAD Architect's Harbin Opera House is one of the most inspiring new buildings on the planet. Sculpturally sublime, breathtaking, a force of nature – critics have run out of superlatives in their attempts to convey its majesty. Rising out of the surrounding wetlands is 850,350 square feet of pure zen and the centrepiece of the city's new Art Hub, an attempt by MAD's founding principal Ma Yansong to blend the building into the very horizon itself, gaining inspiration from the water that flows along the area's riverbanks to create a grand architectural statement.
From the air it resembles a white dragon sitting in – but not born of – the landscape, a building whose crescent, looping form owes its very existence to the natural features that embrace it. Rather than imposing itself upon the landscape, rather than soaring above it, MAD's opera house radiates a soothing aesthetic. It's a building that is always open, regardless of whether there's a performance or not… and it can even be walked on, with a stairway of granite steps that takes you onto the roof to a platform that provides views over the city and the nearby Songhua River.
"I wanted people to be able to climb the building, like a mountain," Ma likes to say. More than anything the goal was to create atmosphere in a building that champions light, space and form. It's all such a triumph that you'd be forgiven for worrying the music might play second fiddle to the building that was designed to show it off. But MAD never lost sight of the building's function.
Lego House
LEGO House in Billund, Denmark, was conceived as a literal manifestation of the infinite LEGO world, an opportunity to demonstrate in a 'real' building how LEGO's famous bricks can be used to create anything the human imagination is capable of rendering, regardless of scale. Is this not a cornerstone of architecture itself? Are not architects' children in disguise, only with more sophisticated toys and loftier budgets? If you suspect they are, and if you could select just one building in the world to buttress your case that architects still possess the naivete of children, that their hearts still quicken at the thought of simply making something, then you must come here. Because LEGO House is where you can see more clearly than anywhere else that gossamer-thin thread which is all that separates the very young from the, well… from the not-so-young.

Bjarke Ingels, the Danish-born architect and founder of the Copenhagen and New York-based BIG, wanted to take the 'clutch' power of the classic 2×4 interlocking hollow-tubed LEGO brick and use its precision and timeless rule of proportions to help people realise new worlds that express more than the everyday. The result? Replicated in a building of what children around the world are doing every day, and in turn have transformed Billund into a new epicentre of fun and learning.
The idea that using LEGO bricks might act as some kind of creative restraint at BIG is dispelled the moment you do the math. Two 2×4 bricks can be combined in 24 different ways, three in 1060 ways, while six 2×4 bricks can be used to make more than 915 million combinations of shapes. For the designers at BIG, Lego bricks proved as much a tool as a toy.
Using the Fibonacci Golden Ratio, a numeric system found in nature to efficiently pack cells and plant structures in order to gain the lightest and contact with pollinating insects, LEGO House integrates its exhibition and public spaces, embodying the culture and values at the heart of all LEGO experiences. Located in the centre of Billund, the 75 ft high LEGO House is made up of 21 overlapping rectangular volumes that are placed like individual structures set around a 231,424 sq ft LEGO square, precisely lit through the cracks and crevices between each volume.
Zhang Zhidong & Modern Industrial Museum
Zhang Zhidong was born in Guizhou Province, China, in 1837 during the late Qing dynasty to a family of scholar/officials. A confident, precocious student always destined for a life in the civil service, he passed its entrance exam at the age of 13 with ease and went on to become one of the foremost officials and reformers of his time.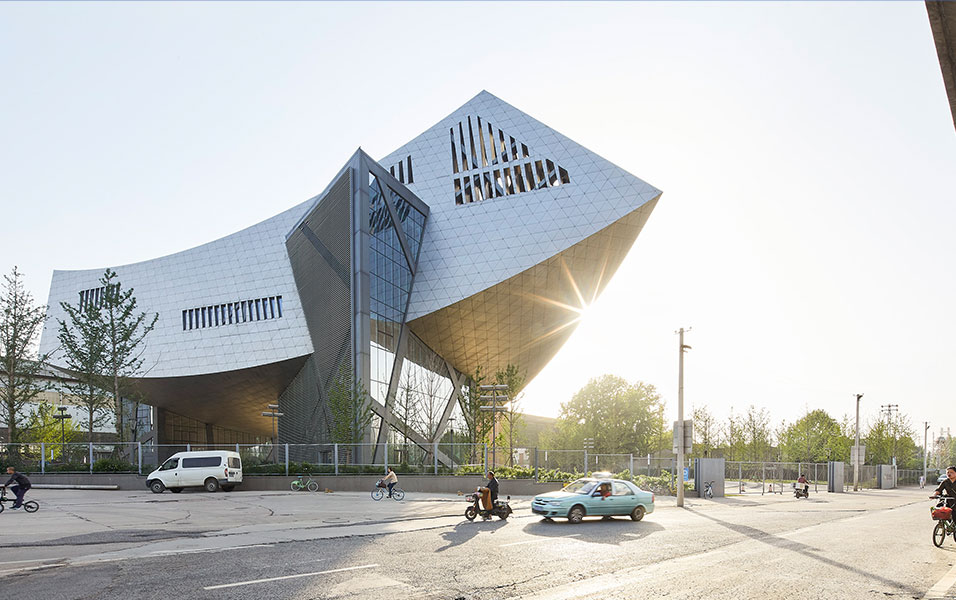 Deeply committed to China's social and economic renewal, he established processes to better educate its bureaucrats; arranged for students to study abroad; restructured China's school system and greatly expanded the number of schools and institutes of learning; and initiated the translation of Western and Japanese-authoured books. Zhang Zhidong also was a fundamental figure in modernising China's heavy industry, including the modernisation of the city of Wuhan and the establishment of its vital steel industry. So, it is appropriate that a museum should at last be raised to honor Zhang Zhidong's lifetime of service, and the early stirrings of Chinese industrialism… and where better to build it than alongside Wuhan's old steelworks?
At once a monument to Wuhan's industrial past and a beacon pointing the way to a new and exciting future, the arching, steel-clad volumes of the Zhang Zhidong Museum seemingly defy gravity; its exhibition spaces arcing their way upwards in a symbolic display of confidence, momentum and modernity.
The first Chinese project by world-renowned Polish-American architect Daniel Libeskind, the museum has three levels, each with its own dedicated brief. While the entrance, main stairway, administrative offices, library and museum shop are all housed within its two conventional steel and glass structures, its upper levels are given over to the life of Zhang Zhidong, an overview of the nation's steel and iron industry, and the rich industrial heritage of the city of Wuhan. All the museum's levels are connected by a single, central atrium that brings in an abundance of natural light to a series of exhibits which have been finely tuned by exhibition designers Diameter Narrative Design. ■

Audacious Architecture by Barry Stone, New Holland Publishers, RRP$49.99, is available from all good book retailers or online at www.newhollandpublishers.com
BY BARRY STONE
For the full article grab the January 2020 issue of MAXIM Australia from newsagents and convenience locations. Subscribe here.