A new book profiling eleven of Australia's oldest, most respected, family-owned, multi- generational wineries celebrates the people who make many of our country's most iconic drops. In this edited extract, we take a look at the history of household name Henschke…
Among the 120 hand-picked guests fortunate enough to attend Henschke's 150th anniversary celebrations at the winery in 2018 was Hieu Van Le, the 35th Governor of South Australia. Stephen Henschke, CEO and chief winemaker at Henschke and the fifth generation of the family to run the iconic winery in South Australia's Eden Valley, told the guests that the Governor's presence at the celebrations was particularly appropriate. "We were thrilled that the Governor attended our celebrations and it was not lost on us the parallels between his arrival in Australia and the arrival of my great-great-grandfather 136 years earlier," Stephen said.
Stephen's great-great-grandfather, Johann Christian Henschke, was a refugee, arriving by boat from Europe in 1841. Van Le arrived in Australia by boat from Vietnam in 1977. Stephen told the story from the old cellars at the Henschke winery, north of the town of Keyneton. The doorways of those cellars are so low that most visitors have to stoop to go through them. Around the walls are dusty bottles of Hill of Grace with their original white labels and simple black type: "Henschke Hill of Grace, 1962, Premier Quality Estate Bottled, CA Henschke and Co, Keyneton, S.A." The cost of a bottle back then was less than $2.50 in today's value.
Both inside and outside these cellars you could be forgiven for thinking that little has changed here over the past century. Then again, at Henschke very few things are rushed. As veteran wine commentator James Halliday said, when he was writing about the winery's 150th anniversary, which coincided with the 177th anniversary of the arrival of Johann Christian Henschke and his family aboard the Danish frigate, the Skjold: "The stoic Lutheran faith is embedded into the very rocks of the Barossa and Eden valleys, the rocks used to build churches, schools and houses. Time and change moved slowly and inexorably, six days each week given to work from dawn to dusk."
The cause of Johann Christian's decision to move to Australia was a decree in 1817 by King Friedrich Wilhelm III that Prussia's religion would be stronger under one Protestant church. The decree was largely ignored by the local Lutheran Protestant people, of whom Johann Christian was one. The King closed Lutheran churches and pastors were forced to hold services in private homes or in the forest. The King would not back down. Fines were issued, livestock seized and many Lutherans were beaten and imprisoned. Eventually, many decided to leave their homeland.
On May 6 1841, Johann Christian and his wife Appolonia, together with their four children — Gottlieb, 10, August, eight, Wilhelm, six, and eight-month-old daughter Luise — packed their belongings and boarded a barge with 270 others from their home town of Kutschlau, near the Oder River in Silesia, bound for Hamburg. Before they left the police issued a warning: any singing of Lutheran hymns as they passed throughs towns would be dealt with harshly.
Several weeks passed before they began the voyage to South Australia. Johann Christian and Appolonia's baby Luise died before they left. As they entered the mouth of the Elbe River into the North Sea, the on-board pastor offered prayers: "Be Thou our compass, rudder and mast and let Thy breath speed us on our way." During the 98-day voyage more than 50 people died of dysentery and were buried at sea. Appolonia died as the ship sailed down Africa's west coast and six weeks later, as the Skjold made its way across the southern latitudes of the Indian Ocean, six-year-old Wilhelm also died. The Skjold finally landed at Port Adelaide on October 28 1841.
Stephen Henschke admits he reflects deeply when talking about his forebears, particularly Johann Christian and his family. "I get quite emotional when I think of my ancestor promising his young family a better life in a new country known as Australia, and then losing his wife and two children on the voyage," he says. "He must have been devastated. But not long after, together with 17 other families, they left Adelaide and founded a village in the Adelaide Hills. They named it Lobethal, meaning 'Valley of Praise'. Imagine going through all of that hardship and still feeling you were blessed. People often ask, 'Which person from the past would you invite to dinner?' I would certainly invite my great-great-grandfather. I loved my grandfather and was only 13 years old when he died, but I regret not asking him about his grandfather. He would have known him."
Stephen pays tribute to the earlier generations of his family in the introduction to Hill of Grace: 150 Years of Henschke Under Southern Skies, written by Fiona MacDonald: "Each generation of Henschke has contributed to our success — winemakers Christian, Gotthard, Alfred, Cyril and their families. The deft hands of these men and women shaped our future with fieldstone, native timber, yeast and vines."
After settling at Lobethal with his two remaining children, Johann Christian gained work as a wheelwright. Two years later he married Dorothea Elisabeth Schmidt and they would have eight more children. They moved to Krondorf in the Barossa Valley after the birth of their second child. In 1862, Johann Christian bought land in what is now the Keyneton district of the Eden Valley. He built a small cellar and with the help of his son, Paul Gotthard Henschke, planted a vineyard with the aim of producing wine for his family and friends. Johann Christian, who would often walk the 20 kilometres from Krondorf with a wheelbarrow to work on the property, sold the first vintage of his wines — most likely Riesling and Shiraz — in 1868.
Johann Christian's extraordinary life ended in 1873, by which time he had passed ownership of the property to Paul Gotthard, who planted more vines and increased wine production. He married Johanne Mathilde Schulz in 1870 and they gave birth to seven children. As well as wine and farming, much of his life was devoted to his music. He played the organ in the Gnadenberg Church and formed the district's first brass band in 1888, known as the Henschke Brass Band. Paul Gotthard died in 1914 and his son Paul Alfred Henschke — then in his mid-30s, the third generation — took the helm at Henschke. In 1907, he married Johanne Ida Selma Stanitzki (known as 'Selma'), also a child of a winegrowing family, and they had twelve children, continuing the Henschke tradition of large families. Notably, Selma's grandfather, Nicolaus Stanitzki, had been one of the earliest settlers in the district and had planted some of the first Shiraz vines opposite the village church in the mid nineteenth century, a vineyard that would later become known as Hill of Grace.
The Hill of Grace vineyard was bought by Paul Alfred's son, Louis Edmund Henschke, who extended it in the 1950s. The purchase and subsequent ownership of this vineyard, which sits opposite the Gnadenberg Church at Parrot Hill, where several Henschke ancestors are buried, would vault the family and its wines into superstardom. Paul Alfred extended the original cellars, and built brick and concrete fermenting vats and underground storage tanks. He bought more land — near Angaston, Moculta and Loxton — and planted more vines. He and Selma's youngest child, Cyril Henschke, born in 1924, would become the fourth generation to run the winery. He left school at age 15 and went straight to work. He survived the post-war Depression and was convinced that Australian wine drinkers were slowly turning towards dry table wines, led by a change in food and wine culture in Australia, influenced in particular by Greek and Italian migrants.
Assisted by his brother Louis, Cyril further extended the winery and built a fermentation cellar. After his father retired in 1952, Cyril began experimenting with different varieties, including Frontignac, Semillon, Sercial, Ugni Blanc (Trebbiano) and Riesling. He began phasing out fortified wine and in 1952 created the Mount Edelstone Shiraz, a wine that would win awards in wine shows throughout Australia. On the back of that success, six years later he launched his second single-vineyard Shiraz, Hill of Grace, which underlined his fame. This iconic wine has been made every year since, with the exception of 1960, 1974, 2000 and 2011. The grapes are hand-picked and, following traditional, open submerged-cap fermentation, the wine is matured in a percentage of new oak to build complexity. Bottles sell today for more than $800, often with a limit of three per customer, or one per customer in very small yielding years.
Cyril was awarded a Churchill Fellowship and travelled in 1970 to wine regions in Germany, the United States and South Africa.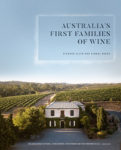 WORDS BY RICHARD ALLEN
PHOTOGRAPHY BY KIMBAL BAKER
For the full article grab the December 2019 issue of MAXIM Australia from newsagents and convenience locations. Subscribe here.