Looking for a quality spot by the sea for your next vacation? Barry Stone's latest book features a mix of over 50 stunning properties throughout the world that have their footprints on some of the world's most wonderful beaches. In this edited extract, we take a look at 10 of the best coastal places to stay and eat on Earth…

BEDARRA ISLAND RESORT
LOCATION: Great Barrier Reef, Queensland, Australia
OPENED: 1957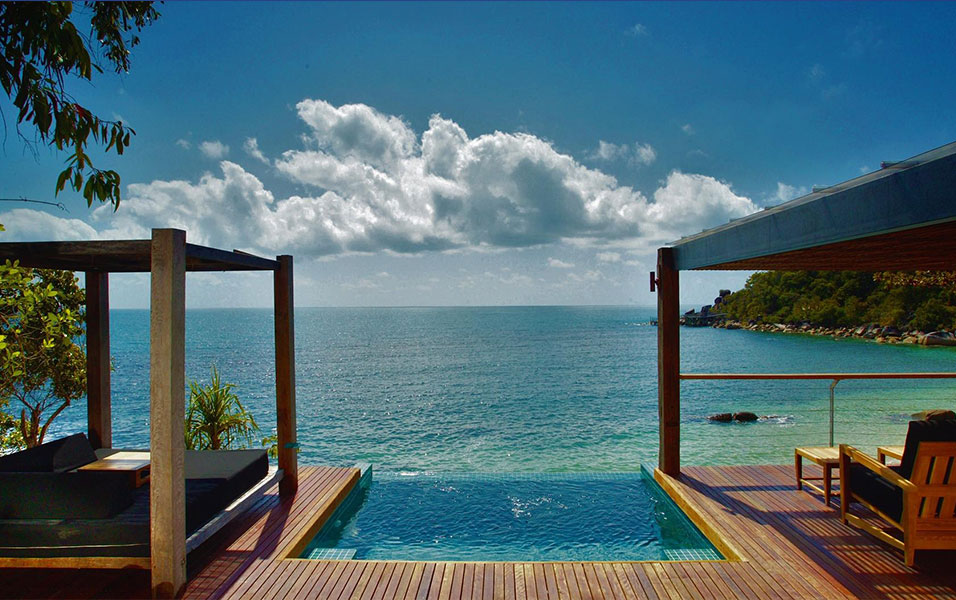 In June of 1770 Captain James Cook, sailing north along the east Australian coast on HMS Endeavour, passed through the midst of a tiny scattering of 16 islands off the coast of present day South Mission Beach. A small but attractive archipelago, he decided to call them the Family Islands. The largest island he named Father Island, and the next largest, which we now call Bedarra, he named Mother Island. The remaining 14 he simply referred to as 'the children'. For thousands of years the local Bandjin and Djiru people, the traditional owners of these islands, called Mother Island Biagurra, the 'place of perennial water', due to the presence on the island of several freshwater springs. Biagurra, however, was almost inevitably misspelt by the author and naturalist Edmund Banfield in his book Confessions of a Beachcomber (1908), who recorded it as 'Bedarra'. And so the name stuck.
Part of mainland Australia until sea levels began to rise around 8,000 years ago, Bedarra Island is 100 hectares of reef-fringed paradise set within the boundaries of the Great Barrier Reef Marine Park. Accessible via private launch from nearby Dunk Island (or by helicopter from Cairns), Bedarra Island Resort encompasses almost half of the island. Rebuilt virtually from the ground up after the eye of Category 5 Cyclone Yasi passed directly overhead on February 3, 2011, the resort has since emerged as one of Australia's most exclusive tropical island destinations.
If you don't want to be found, if you want to feel a little of what it's like to be marooned, you can do a lot worse than spend a few days here. There are just nine guest villas, most of which are located in the rainforest that rolls down from its granite interior and covers the island like a blanket. Each has its own individual floor plan. Treehouse Villa is perched on granite boulders high in the canopy, with its own sun terrace and day bed; The Point, the last word in seclusion with its elevated position and plunge pool, provides stunning views out over Hernandia Bay. But maybe you've come to Bedarra Island because you want to stay on the beach and not above it. If so, you'll be wanting Villa #5, the Beach House. Set right on the sand amongst swaying coconut palms, this two-story slice of 'everything you never even knew you wanted' has a customised bar and lounge on the upper level, with a small ocean-facing deck. The lower level contains the bedroom and a bathroom that opens onto a rainforest-facing deck with outdoor shower. The lower level also leads out onto the villa's substantial lower deck, which brings the total decking area here to an impressive 38 square metres.
With so few villas you rarely see other guests except at meal times or at the bar. The atmosphere is at once laid back but with an attentive staff; luxurious without a hint of pretense. There are no rules, no signage, and no bothersome dress codes either. You can snorkel, maybe get lucky and swim with a few black-tipped reef sharks, or take a stroll into the island's dense tropical interior. That's exactly what the current owner of Bedarra, Sam Charlton, did when he was 12 years old. In 1986 while living on the island with his family, Sam was shown the location of one of the island's all-but hidden freshwater springs by Noel Wood, the celebrated South Australian-born artist who lived on Bedarra Island for almost 60 years in his 'House of the Singing Bamboo'. Wood died in 2001, and ten years later his house was destroyed by Cyclone Yasi. But the natural spring Wood showed the young Sam over 30 years ago, Sam found again, and it now provides the resort with cool, granite-filtered water. You just can't beat local knowledge.
Sam and wife Kerri-Ann love their island home – and are passionate about sustainability. Gone are the resort's old diesel generators and reverse osmosis desalination equipment. Solar power now provides electricity. Important stuff, yes, but the mechanics of which you, the guest, are oblivious to as you hike the island's lookouts or explore its deserted beaches by dinghy or by foot. At Bedarra, you're not just on the beach. You're on your beach.
CAP D'ANTIBES BEACH HOTEL
LOCATION: Antibes, France
OPENED: 2009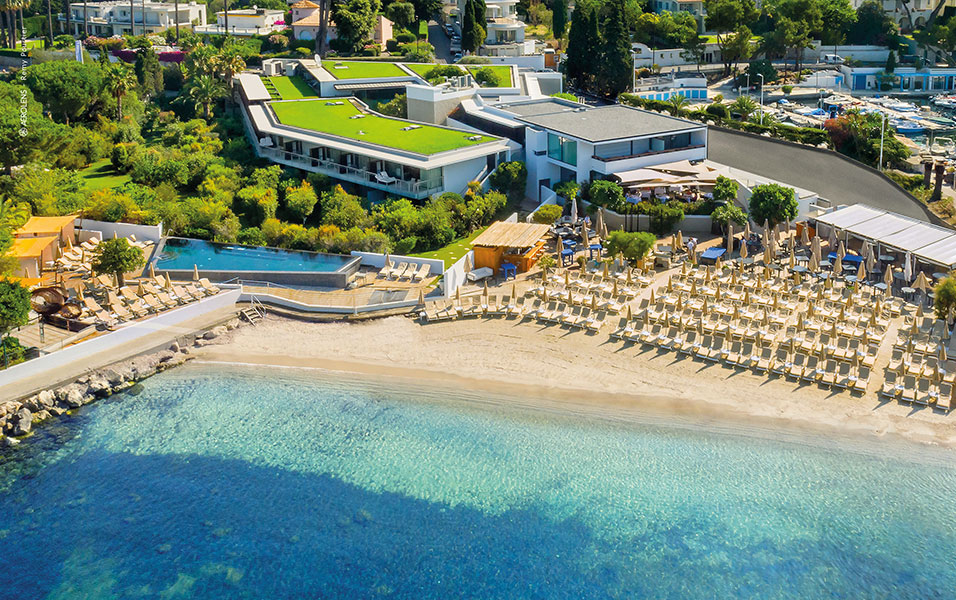 The commune of Antibes on the Côte d'Azur began life as a Greek trading post in the 5th Century bce, evolved under the Romans into a major gateway to the region of Gaul on the Aurelia road, and in the 10th Century became a fortified enclave. From the 14th to the 17th Centuries, as Europe was experiencing its Renaissance, Antibes fell into obscurity and wouldn't begin to emerge from it until the mid-1800s, when its natural beauty saw wealthy families begin to build scores of luxurious summer houses along its coast and in its hills. Thus began the first stirrings of the 'chic' Antibes we see today. Yet as recently as a hundred years ago it was still the only large town on the coast road between Nice and Cannes.
By the 1930s it had become a destination for the wealthy and the privileged, beloved by Hemingway, Valentino, and Scott and Zelda Fitzgerald, and artists who came here for its wonderful light, including Matisse, Chagall, and Pablo Picasso, who lived here for six months in 1946. Some might say the Antibes of today is living off its reputation, that excessive development threatens to erode its considerable charm. But still, it is possible to build something here and get it right, to add rather than detract from the cape's beauty. That is what was achieved with the arrival of Cap d'Antibes Beach Hotel.
A glistening jewel of contemporary architecture, Cap d'Antibes Beach Hotel has 35 rooms and suites, two restaurants on site (its one-Michelin-starred Les Pêcheurs, and beachside restaurant Le Cap), and a 200-metre-long, sheltered fine sand beach that has unimpeded views out over the nearby Lerins islands, and inland to the Esterel Massif. The hotel's eight new 'design suites', added in 2016 as part of a €3 million renovation, provide stunning views over the Port du Crouton and Cap d'Antibes, yet the hotel itself remains refreshingly minimal, eschewing the sort of epic proportions commonly seen, whether you like it or not, in Antibes' older grandes dames. The success of the hotel's gourmet restaurant Les Pêcheurs means this hotel is no longer just a place where you come to sleep. Whether planning to stay overnight or not, food connoisseurs now drive out of their way to eat here. In fact it was the restaurant that appeared on this site first, existing on the beach as La Maison des Pêcheurs, a simple fisherman's shack, years before the hotel was ever conceived of, a convenient anchorage for fishermen who'd pull up their boats and cook whatever they'd caught on the day. The 'Maison' (house) in the title might be gone, but it has forged an enviable reputation thanks to the inventiveness of its Nice-born Head Chef Nicolas Rondelli, and is now a one-star Michelin restaurant in a region bristling with more than its share of those sought-after red Michelin flags.
Not content with having restaurants in its hotel, Cap d'Antibes Beach Hotel also has a restaurant in Antibes' Old Town. Le Nacional restaurant, close to the Picasso museum and not far from the street that was once home to the author of Zorba the Greek, Nikos Kazantzakis, serves first-class cuts of beef from the region's finest butchers, and has an enviable wine list. And when you're done you can return to the hotel on its own private motor launch. And the end of another perfect day on the French Riviera.
DOYLES ON THE BEACH
LOCATION: Sydney, Australia
ESTABLISHED: 1948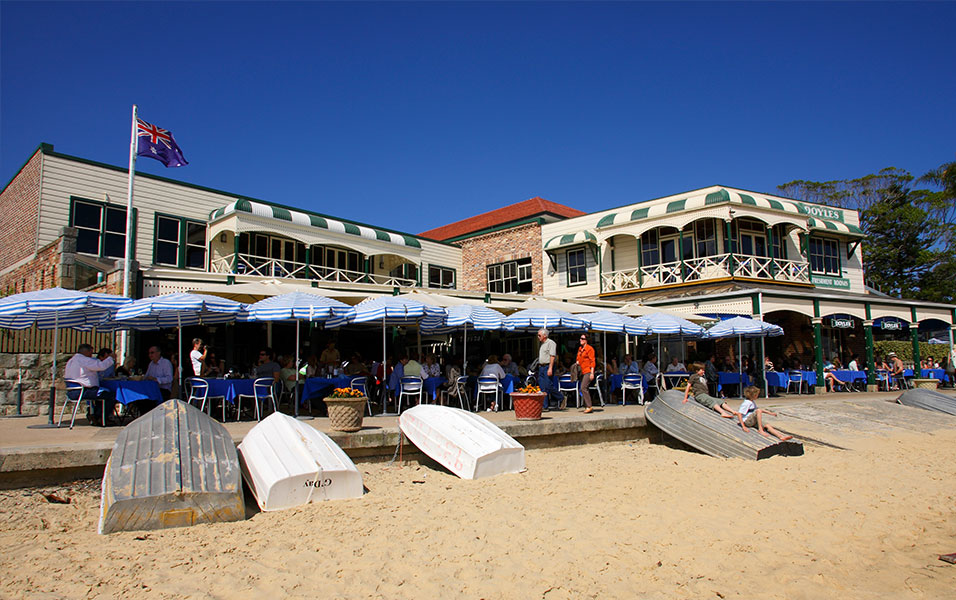 Situated on one of the most picturesque beaches, inside the world's finest natural harbour, Doyles on the Beach was Australia's first seafood restaurant. Opened in 1885 and to this day has always been owned by multiple generations of the same family. Doyles encompasses every childhood ideal, every cherished notion, of what makes an Australian summer: sand, seagulls, endless light-filled days and humid, sticky nights, eating fish and chips under a sun-drenched sky.
Peter Doyle, the doyen of the Sydney seafood scene, who passed away in 2004 at the age of 72, transformed Doyles, with the help of his three brothers, from what was little more than a beachside café in the 1950s into the world renowned restaurant it is today. And he delighted in the telling of its pivotal transition in the 1930s, from serving common cuisine to seafood: 'The story is that we came to serve only fish because my mother, Alice, used to cook, and my father, Jack, used to wait tables. But people used to complain about the steaks, saying they were always tough. So father said: "Right, from now on we're only going to serve fish, because no one ever complains about the fish!" To which Alice replied: "Well, if we're only doing fish, then you can do the cooking!"' And from that moment on, with their roles reversed and Jack in the kitchen, a legend was in the making.
It began in the 1880s as a simple shed, where Alice's Grandma Newton would
cook up the morning catch, that her husband Henry Newton and his fishing friends brought in each day, and then serve it to weekend picnickers, who'd take the ferry from Circular Quay over towards the heads and 'remote' Watsons Bay, a day trip back then. Then in 1908 on the same site came the Ozone Café, a two-story building that couldn't have been better placed, not only close to the Watsons Bay wharf but also nearby the tramline that was extended out to the bay in 1909. Twenty years passed until Alice met future husband Jack Doyle at a party at the Ozone in 1929. They married in 1931, but the Great Depression forced Ozone to close in 1933. A few years later World War II intervened and saw Jack go off to war. He returned in 1946, but how to pick up the pieces and start life afresh together again? Thirteen years had passed since the old café closed its doors. But Alice had no doubt as to where their futures lay.
Alice was determined to revive the Ozone Café, and Jack, despite misgivings, agreed. With a loan from her mother Eva, the café reopened in March 1948 and the three of them worked round the clock to establish it anew. Upstairs Eva made scones, while downstairs Alice worked the tables and Jack cooked the fish. And if that weren't enough, they even placed tables outside – introducing the very European concept of dining alfresco to Sydney for the first time. The recipes, those dishes that did so much to build the restaurant's prosperity, have survived. But they are more than just recipes. They are culinary life lessons. In them there are reminders that fish are delicate, that they need only a few minutes in the oil. They remind us that fish should be handled with care; that they are fragile. And the fresher the fish, the more delicious the dish. Small fish with lots of bones should be pan-fried. Large fish like barramundi should always be served with a sauce if fried or grilled, as they easily dry out. And if deep frying? Go with beef batter if you can. The best fish and chips Alice ever had were cooked in beef dripping – by her mother.
At Doyles, the emphasis on 'old fashioned cooking' isn't some phony slogan. It's born of tradition. No matter how many customers might pack the place out on a sunny Sunday afternoon, this gathering place where as many as one in four of its customers are from overseas because it's just that famous, still remains true to the spirit that made it what it is. We should remember that it garnered its reputation in the 1960s when Sydney was a gastronomic backwater, which is no mean feat, and it has continued to be a well of fine food served with a refreshing lack of pretense that was reflected in Peter Doyle's own business card, a card that he never altered, and which read, simply: 'Peter Doyle: fisherman.'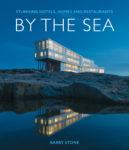 By The Sea, New Holland Publishers, rrp$49.00, is available from all good book retailers or online at www.newhollandpublishers.com
For the full article grab the December 2019 issue of MAXIM Australia from newsagents and convenience locations. Subscribe here.