Model, Tae-Kwon-Do world champion and competitive shooting enthusiast, Jamie Villamor, makes her MAXIM debut. Ready, aim…
Tell us a bit about your shoot…
It was actually such a cold day. I was freezing everyone was literally in hoodies and I'm 1/2 naked but in between looks our crew would bundle me up. We had the best team.
Have you ever been to New Zealand?
I haven't yet but I have plans to visit Auckland in 2020!
When do you feel sexy and why?
In a plain white T-shirt with a warm cup of military grade coffee. Iit always gets my day off to an amazing start.
Do you drink any other coffee or just this military grade coffee you speak of?
Not typically, I love how bold the taste of military grade coffee is and it's awesome because they give 10% of net profits to the Gary Sinise Foundation.
What would people be most surprised to know about you?
If they don't know already… I am a sponsored shooter for Rock Island Armory. They are a company based out of the Philippines. I shoot a single stack 1911. It's an amazing sport that definitely doesn't get the recognition it deserves.
Give us a little more background about yourself and your life story so far.
I've always been a bit of a tomboy. I have two brothers and five uncles so never really did anything girly growing up. My pets were always reptiles. I love sports and being outdoors. I started training In Tae-Kwon-Do when I was five and that's what I did four to five days a week until I was 18. I earned my second degree black belt and was national and world champion. It was definitely a fun time. I didn't like my Mum and Dad for making me go at the time but looking back I'm so grateful they never let me quit. It's definitely instilled a work ethic and level of discipline I'm not sure I would have if it wasn't for them.
How would you describe yourself in five words?
Humble, loyal, spontaneous, giving and a prankster.
How long have you been modelling and what would you do if you weren't modelling?
I did my first runway show at five. If I wasn't modelling I would be exploring more and definitely shooting more pistol matches and training.
What have you learned about men over the years?
No two are alike.
What is one thing men should always know about women?
Always be a straight shooter. I can't speak for all women, but I can guess most women appreciate honesty and consistency.
What do you look for in a man?
Someone who is consistent, confident and secure with who they are. Financially responsible, funny, spiritual and willing to give back to others. A humble heart is always a win. Wow that's kind of a lot.
Describe your ideal date.
I'm such a sucker for a good massage. I love having my feet rubbed. Something spontaneous. A man who can take charge, make the plans and tell me what we are going to do.
What's your best hidden talent?
Trigger control
Do you have any phobias?
Yes. An empty shoe closet!
What can we get you at the bar?
H20 please.
Got a hangover cure?
Not really I'm kind of a cheap date in the sense that I don't drink.
What is your motto in life?
Each day is blessing and I'm grateful to be along for the ride.
Who is your girl crush and why?
Margot Robbie is my girl crush. Not only is she incredibly gorgeous, but I think she's so talented.
What are your thoughts on marriage?
It's definitely not for everyone. I think being married entails a lot of work; however, it's a beautiful thing. I admire those couples who can stay committed. It's definitely a blessing to find a life partner.
Do you think marriage is in the cards for you?
Sure, nothing is off the table for me.
What is your best advice for aspiring models?
Don't do drugs, go home early, don't over-do the drinking and always write thank you notes.
Finally, where would you like to be in five years?
In five years I will have more time to focus on some of my favourite philanthropies, have a second home and be more focused on competitive shooting. ■
Status Update
Full name: Jamie Villamor
Hometown: Las Vegas Nevada
Instagram: Jamie_Villamor
Facebook: Jamie Villamor
PHOTOGRAPHER: ARTHUR ST. JOHN
HAIR STYLIST: CHITA BESEAU @CHITABESEAU
MAKE-UP ARTIST: LETTY LOPEZ @LETTYLOPEZMAKEUP
LOCATION: ARMANI IZADI @IZADI
ASSOCIATE PRODUCER: MICHAEL CARLOVSKY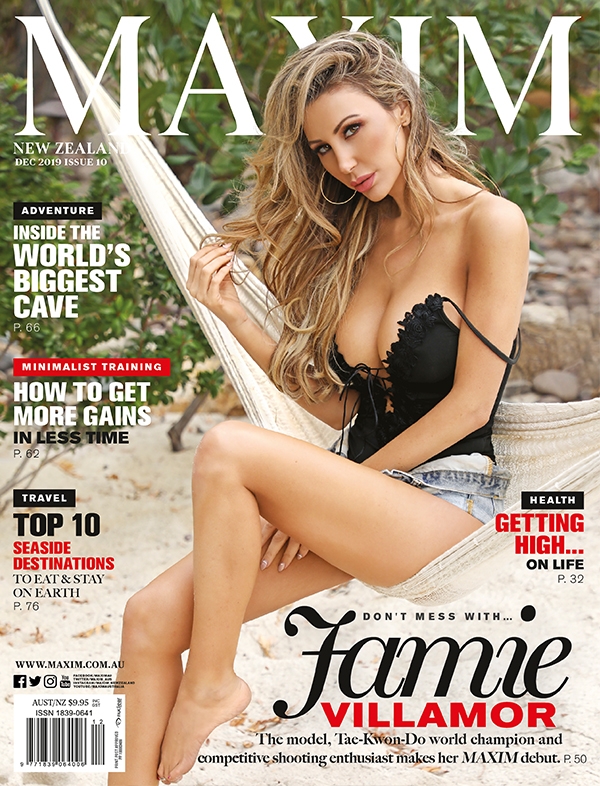 For the full article grab the December 2019 issue of MAXIM New Zealand from newsagents and convenience locations, or a digital copy from Zinio and Magzter. Subscribe here.