Malcolm Young was the founder and rhythm guitarist of legendary Aussie rock band AC/DC. He was the driven one, the schemer, the planner, the behind-the-scenes man… not to mention the most unpretentious guy. In Malcolm Young: The Man Who Made AC/DC – the first-ever biography to focus exclusively on Malcolm — author Jeff Apter explores his life from the rough-as-guts upbringing to his very moving, star-studded funeral in November 2017…
Released on July 27, 1979, Highway To Hell was AC/DC's last album with lead singer Bon Scott, who died from alcohol poisoning on February 19, 1980. The album's title supposedly came after a reporter asked band members if they could describe what life was like being constantly on tour. Lead guitarist Angus Young replied that it was "a f—king highway to hell." The album became AC/DC's first to sell a million copies and make the U.S. Top 20.
This year saw AC/DC reactivate its social media accounts, following a two-year lull, for a month-long celebration to honour the 40th anniversary of their classic masterpiece. And as we continue to celebrate this epic milestone, Jeff Apter shares this exclusive extract from his latest book, which takes us behind-the-scenes with Malcolm Young, his co-founder brother Angus, lead singer Bon Scott and the rest of the boys, as he encapsulates the highs and lows that come with being a key member of one of the biggest rock bands on the planet.
omentum was always crucial for Malcolm Young and the band, and their U.S. tour would be the bubble in which they existed until the middle of August 1979. It was a three-and-a-bit-month-long run with very few nights off. They travelled, they played, they slept a bit and then they kept moving. Bon Scott summed up the feelings of Malcolm and the entire band when asked by Florida DJ Neal Mirsky where they currently resided. "We're not actually residents of anywhere right now," Scott explained. "Most bands live on the Virgin Islands or whatever… but we're mainly Australians… the three Australians were born in Scotland. One Englishman. And one Polish guy. We're what you might call international."
They were rock-and-roll gypsies, essentially. And while the word "bonhomie" was not bandied about too much when talked turned to the often-wary Youngs, they did form the occasional road bond. Their connection with Midwestern rockers Cheap Trick now stretched across shared gigs, tours and thousands of miles. During the 1979 tour, that connection deepened when Malcolm uncharacteristically agreed to a jam. It happened on July 7, a steamy summer's night, as the roadshow reached Sioux Falls in South Dakota, where they filled an 8000-seat venue. As Cheap Trick reached the end of their set, Malcolm, as well as Angus and Bon, joined the band for a raucous rip-and-tear through Chuck Berry's "Johnny B. Goode". It was hardly a stellar performance – Malcolm spent most of the time trying to locate the amp into which his guitar, borrowed from singer Robin Zander, was plugged. "I couldn't figure out where my sound was coming from," he admitted afterwards. It turned out that a black scrim covered the amp, which was placed under the drum riser. Even when jamming, Malcolm was driven to get it right. But Malcolm's gesture was more important than the end result. He didn't suffer fools and he didn't jump on stage with just anyone. He wouldn't jam with another band for 24 years — and that band would be none other than The Rolling Stones.
A few weeks later, Highway to Hell was finally released. Looking back, Malcolm came to accept that moving on from Vanda and Young — the compromise he had so reluctantly agreed to — proved to be a lifeline for the band. "That was a definitive change for AC/DC," he later said of Highway to Hell. "Atlantic Records in America were unhappy because they couldn't get the band on the radio, and they were desperate for us to come up with something more accessible. We'd had our own way for a few albums so we figured, let's give them what they want and keep everyone happy." There was one big problem, though: the album title. Atlantic hated it, and feared a backlash in conservative U.S. markets. But Malcolm refused to budge; one compromise per album was more than enough. According to Malcolm, "If certain people had got their way, though, it wouldn't have been called Highway to Hell, because the bible belt was very strong in America at the time, and they made a fuss once the record came out. But even though we were under pressure, we stuck to our guns."
Angus agreed with his brother. As far as he was concerned, after all their globetrotting, there was no more apt name for the record, as he told Guitar World magazine. "You crawl off the bus at four o'clock in the morning, and some journalist's doing a story and he says, 'What would you call an AC/DC tour?' Well, it was a highway to hell. It really was. When you're sleeping with the singer's socks two inches from your nose, that's pretty close to hell." Not only did Malcolm get his way, but a promotional poster was created using the album's front cover, which became an iconic work of AC/DC art. Devil's horns protruded from the cap of a snarling Angus, while the others in the band were either chuckling (Bon), scowling (Malcolm) or caught somewhere in between (Williams and Rudd). "AC/DC," the poster announced, "burning a Highway to Hell."
The album became their first to crack the U.S. Top 100, peaking at number 17 on November 10, 1979, during a pretty fertile time commercially for rock bands, with albums from Foreigner (Head Games), Led Zeppelin (In Through the Out Door) and The Knack (Get the Knack) all charting strongly in the U.S. (At time of writing, Highway to Hell's sales sit at over seven million, a handy return on Atlantic's investment, which was more substantial for Highway to Hell due to the change of producer.) In the U.K., while the album became a hit, peaking at number 8 and charting for 40 weeks, a sector of the British press still couldn't bring themselves to treat AC/DC seriously. "The greatest album ever made," declared a headline in NME, under which was printed, in much smaller type, "(in Australia)". If Malcolm needed further proof that they were a band of the people and not of the critics, there it was. When Bon Scott sat down with a writer from the Record Mirror, he took the time to reflect on their slow climb in the U.S.. "We're beginning to make an impact… at last, [but] I reckon we'll still have to push a bit harder to get to the top of the hill." In short, more touring.
With their star rising globally, AC/DC were now being handpicked for big shows in the U.K. and Europe — and suddenly they were being billed as "guest stars", rather than just another name in a long list of acts. On August 18, 1979 they made their "guest star" debut at Wembley Arena, as part of a huge event — the return of The Who, playing their biggest show since the demise of their drummer Keith "The Loon" Moon, dead from an overdose of prescription drugs at the age of 32. Also on the oddly balanced bill were punk act The Stranglers and American singer/guitarist Nils Lofgren. The audience was, by some reports, as large as 80,000, certainly the biggest that Malcolm and the band had ever fronted. "Only AC/DC really manage[s] to move the audience," reported Harry Doherty, writing for Melody Maker. "The audience left no doubt as to their partiality for AC/DC. This could be just the break the band needed to finally push their point home to Britain."
But it was hard work for the group. As they tore into "Whole Lotta Rosie", the PA suddenly cut out, which elicited a rowdy response from the crowd — it seemed that many were there just to see AC/DC, a slap in the face for the resurrected The Who. The band continued playing, but they could barely be heard beyond the first few rows. "Turn the f—king thing on!" screamed one punter. The PA finally roared back into life during "Rocker", the crowd yelled its approval and a very pissed-off AC/DC powered on to a huge finale. That malfunction launched a juicy rumour: were AC/DC the victims of sabotage? Could an envious headliner's crew be to blame? The truth was never disclosed. Despite the hitch, "they were awesome", according to The Stranglers' J.J. Burnel. "And it was solid packed." After their set, Bon Scott sat down with the band's former roadie, Tana Douglas, who was working elsewhere that day at Wembley, and admitted that he was feeling much older than his 33 years.
A French film crew began trailing the band in December, prior to a sold-out show at the Pavilion, shooting footage for the concert film Let There Be Rock, which would surface in 1980. Filmmakers Eric Dionysius and Eric Mistler provided an unusually candid portrait of Malcolm and Angus — "the notorious Young brothers", grinned Angus. How's Malcolm as a brother? he was asked. "Good, fine, upstanding. Likes a drink. And I can look him in the eye." The two were filmed backstage, ciggies and guitars in hand. Swathed in smoke, the pair appeared lost in their pre-show tuning, oblivious to the world around them — camera crew, eager audience, the lot. There was a show to play; it was time to get to work.
Despite the usual whiff of superiority that elder sibling Malcolm exhibited towards his 'kid' brother — and Angus would always be the kid, no matter how old he actually was — Malcolm was beginning to pay Angus due credit. "Sometimes," Malcolm told a reporter, "because of the volume on stage, you don't hear the stuff Angus is doing solo-wise… He's a hot player. One day they'll see it in their entirety and go, 'F—k, he's one of the best of them all.' And that'll be true." In a sequence from Let There Be Rock that would prove tragically prophetic, a cameraman followed Bon as he walked along a street in Paris. "I'm a special drunkard," Bon laughed, when asked why the others in the band referred to him as "special". "I drink too much." Did he consider himself a star? "No," Bon chuckled. "But I see stars sometimes."
Malcolm had his own "solo" sequence in the film, where he got to indulge his love of soccer. Decked out in what looks like an Aberdeen FC strip, he booted a ball around an empty paddock, celebrated a "goal' with a drink and then fell into the embrace of his girlfriend, O'linda, who was looking on. She was an employee at Alberts and a close friend of Fifa Riccabono, a long-time employee at Alberts (and eventually its CEO), and a close confidante of the band. O'linda was Malcolm's first serious girlfriend in years; so serious, in fact, that they'd marry just prior to Christmas 1979, and would remain wed for the rest of his life. Angus, too, was in a serious relationship, with a tall blonde Dutchwoman named Ellen, who towered over him protectively whenever they were seen together. They'd wed in February 1980. The "notorious Young brothers" were settling down.
But not so Bon Scott. He'd overindulged a few times during gigs on their most recent U.S. visit — boozing was fine after, but not during, a show — and was socialising with lively characters such as Pete Way from the British band UFO, a drinking buddy of Scott's. The two bands had toured together in the States. "Bon was brilliant," said Way. "You'd see him first thing in the morning, and he'd been with the barmaid or something, and he'd go, 'Had a good workout last night.' He'd get out of the elevator, he'd clap his hands and he'd say, 'Large Jack Daniels.'"
Ever since the band had begun working with Atlantic in the U.S. people had whispered in Malcolm's ear that Bon wasn't right for the band: he was too wild, he was too ragged, he screamed too much. Someone even suggested that Malcolm should replace him with David Coverdale from the metal band Whitesnake (who Malcolm dismissed as a "pop singer"). And, by his own admission, Scott was now starting to entertain the notion of recording a solo album, ideally with some of the southern rockers who he'd befriended in the U.S.. He wasn't leaving the band; he just wanted to stretch his musical wings a bit. But Malcolm rejected any notion of sacking Scott. No f—king way that was going to happen – he and Scott had grown very tight since he joined the band. Bon stayed.
The rest of 1979 was spent in motion, with a U.S. tour followed by dates in the U.K. and Europe. Just before heading back to Australia for Christmas, Scott seemed to be in a more upbeat mood than he had been at Wembley a few months earlier. "I'm 33," he told a reporter, "[but] you're never too old to rock and roll." Back in Sydney he reconnected with family and friends, even jumping on stage at the suburban Sydney venue The Family Inn, jamming Chuck Berry's "Back in the USA" with the band Swanee, whose singer, John Swan, was a fellow expat Scot who also didn't mind a tipple. Then there was a whistlestop AC/DC tour of France for a week in January, with gigs in Poitiers, Bordeaux, Toulouse, Rouen, Nantes, Brest and Le Mans, followed by a handful of shows back in the U.K..
The Highway to Hell LP was now well represented in the band's set list; they played "Shot Down in Flames", "Highway to Hell" and "Girls Got Rhythm", along with the usual standards. There was also another appearance on Top of the Pops, rocking "Touch Too Much" on February 7, followed by a spot on a Spanish TV show two days later. The translated version of the intro from Spanish host Silvia Tortosa laid it on the line: "Today on TV Applauso, we receive a new group in Spain: AC/DC. They're Australian and are considered one of the best rock bands of the last generation… Today, for the first time in Spain, AC/DC!" But Bon didn't look his best; he seemed tired, pale, drained. The seated audience, an odd assortment of young and old Spaniards, clapped politely after the band played "Girls Got Rhythm".
A few days later, Bon returned to the Hammersmith Odeon to cheer on his buddies in UFO when they staged a three-night run at a favourite venue of AC/DC's. Members of UFO would subsequently admit that heroin was among their after-show indulgences, and AC/DC's manager Peter Mensch was understandably worried about the impact this toxic environment would have on Scott. But Bon was his own man — and no stranger to drugs, of course. As for Malcolm, he may have considered Bon a brother, but he was in no position to question the guy's lifestyle choices, even if there were some incidents that upset him, such as the time Bon had invited Rose Tattoo's Mick Cocks onto the tour bus, even though Malcolm had made it well known he wasn't a fan of the hard-living guitarist. But Malcolm was hardly a saint himself — he loved a drink and a smoke and a big night; he'd be a hypocrite to even suggest some sort of intervention. And would Bon have listened to him anyway?
If there was one thing bugging Malcolm, it was that he felt Bon wasn't receiving due credit for his rare, funny skill with lyrics and his amazing stage presence. The man was the living embodiment of swagger, one of the best frontmen of his generation. George Young had been spot-on five years before when he'd observed that hiring Bon had transformed AC/DC into a real rock-and-roll band. And as far as Malcolm was concerned, Bon still wasn't getting "the recognition due to him". Maybe the next record would change all that.
Malcolm's thoughts were soon elsewhere: by early 1980, he was focused on the next album. Highway to Hell had given them a firm foothold in America, and they were now making a reasonable living, so the time was right to capitalise on the momentum. Mutt Lange was locked in to produce; as soon as a bunch of new songs were in decent shape, they would be ready to roll. News had come through from the U.S. that Highway to Hell had just tipped over the one million sales mark, so the future couldn't have been brighter. It was a platinum record— their first.
On February 15, Malcolm and Angus got together to work in a London rehearsal space, tinkering with instrumental sketches that would become the songs "Have a Drink on Me" and "Let Me Put My Love Into You". Bon dropped in unannounced. The first thing that struck Malcolm was that Bon was in good shape. As he'd say later, "He looked fantastic; he was looking after himself."
"Do you mind if I play the drums?" Bon said, motioning towards a kit in the corner. It was a request with a bit of a backstory; when Scott had first met the band in 1974, he'd actually asked if he could be their drummer. "So when do we get started?" Scott asked, as he whacked away at the drums.
"We're just about ready for you, Bon," Malcolm told him.
"Maybe next week sometime." With that, Bon said goodbye and left. Malcolm would never see him again. ■
ABOUT THE AUTHOR
Jeff Apter is the author of over 20 music biographies, many of them bestsellers. His subjects include Johnny O'Keefe, Keith Urban, John Farnham, the Bee Gees, the Finn brothers and Angus Young of AC/DC. Jeff was on staff at Rolling Stone magazine for several years and has written about legends such as Aretha Franklin, Patti Smith, Robbie Robertson, Bob Dylan, Chrissie Hynde and Lucinda Williams. In 2015, he worked on the Helpmann award – nominated live show A State of Grace: The Music of Jeff and Tim Buckley. Away from music, Jeff has also worked on books with soldiers and diplomats and sports greats such as Michael Slater and Tim Cahill. He lives in Wollongong, NSW, with his wife, two children, a cat that's so damned cool it needs no name, and a very blue dog named Neela. www.jeffapter.com.au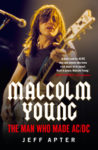 This is an edited extract from Malcolm Young: The Man Who Made AC/DC by Jeff Apter, published by Allen & Unwin, RRP $32.99, available now
For the full article grab the October 2019 issue of MAXIM Australia from newsagents and convenience locations. Subscribe here.