This beauty therapist turned international model and actress is one impressive beauty to keep your eye on…
Tell us a bit about your shoot.
It has been a dream of mine to be on the cover of a magazine, so when I was approached for this MAXIM New Zealand shoot I was over the moon! I chose to shoot with Rocky who is so amazing and he had the idea of shooting at this beautiful home in Burleigh Heads on the Gold Coast.
Are there any funny anecdotes you can share about this shoot?
There were two beautiful dogs at my shoot location and we thought it would be funny to get a few shots of me walking the dogs to send through to my manager and pretend these were the only shots taken… he wasn't happy!
Have you ever been to New Zealand?
No, but I have heard that Lake Pukaki is just magical, so that's a must! I'd also love to explore Queenstown.
When do you feel sexy and why
I believe feeling sexy comes from within. Self-love and self-confidence are powerful. So with that I know I look just as sexy in a tracksuit as I do when I'm all glammed up ready for a night out with the girls or in some cute new lingerie.
What is your best asset?
Being very down to earth and relaxed. Physically, I would say my eyes and my smile. Although I am often told my boobs. LOL.
Give us a little more background about yourself and your life story so far.
I was born and raised in Hobart, Tasmania. My mother is Australian, my father Italian. I have been a dancer since I was very young and I dreamt of travelling the world. I knew there was more out there for me, so at 21 I moved to Queensland to study Beauty Therapy and got into hospitality work. Since then I have made the most beautiful and life-long friends, and am very grateful for all these wonderful opportunities that have come my way since moving to the sunny Gold Coast!
What would people be most surprised to know about you?
I prefer to have night in with friends rather than going out to a club. I actually can't stand night clubs!
How would you describe yourself in five words?
Compassionate, creative, loyal, sexual and stubborn.
How long have you been modelling and what would you do if you weren't modelling?
I started modelling with an agency in my early teens. I continued with them for a few years, but quit due to being more focused on my dancing. Since making an appearance in the Ultra Tune commercial with Charlie Sheen I've had new opportunities come my way and I am excited to now continue my career in modelling.
What have you learned about men over the years?
Men and women have more similarities than differences.
What's one thing men should always know about women?
Women just want men to be on our side. Instead of having an opinion about something we are upset about, just agree with us and have our backs!
What do you look for in a man?
Just someone that is kind, honest and makes me feel safe. Preferably taller than me too! (I'm 5"8)
Describe your ideal date.
A picnic set up on a quiet beach, lots of cushions, blankets and candles and some good wine! Just a simple evening with lots of laughs.
What can we get you at the bar?
Tequila! Or any sour cocktail 🙂
Got a hangover cure?
I swear by going straight down to the beach and jumping in the ocean. Otherwise lots of water, Disney movies a cuddles with my BFF Kelly ❤
What's your best hidden talent?
I'm pretty flexible from all my years of dancing. Is that a talent? Also, I can probably out-run many in a pair of heels!
Do you have any phobias?
Yes. I'm pretty much a big baby.
Who is your girl crush and why?
Beyoncé. Because….. Beyoncé.
What's the freakiest/weirdest thing someone has sent you via social media?
Haha. Oh I could give you a whole list! I do often get offers to purchase my old Shoes. They usually request that they are well worn with a strong odour. Each to their own, but I can't help you with that!
What is your motto in life?
If you can't be kind, be quiet.
What's next for you? Any exciting projects on the horizon you can share with us?
I am filming with Ultra Tune again for our new TV commercial with Pamela Anderson which is going to be so much fun! And I am actually on my way to Fiji at the moment with MAXIM Australia for something exciting due in the new year along with a few other secret projects, so stay tuned!
Finally, where would you like to be in five years?
I would like to be a successful business owner who's travelled the world, married to my love with a couple of children. ■
StatusUpdate
FULL NAME: Giuliana Migliorini
HOMETOWN: Hobart, Tasmania (currently living on the Gold Coast, Australia)
BORN: 26 May 1991
INSTAGRAM: @giuliana__x
SNAPCHAT: gulzmig
PHOTOGRAPHED BY ROCKY BATCHELOR
STYLED BY BELINDA ROELOFS
LOCATION SHOOT LOCATION BURLEIGH
HAIR AND MAKE-UP BY SIMMY CARR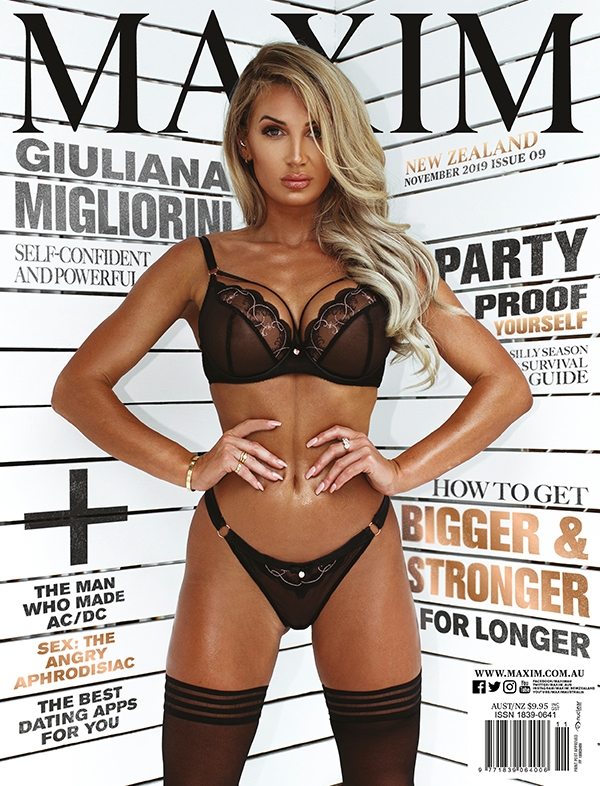 For the full article grab the November 2019 issue of MAXIM New Zealand from newsagents and convenience locations, or a digital copy from Zinio and Magzter. Subscribe here.