The Ultra Tune Rubber Girl and real-life Maori Mermaid shows us why Kiwi girls are the world's hottest!
Tell us a bit about your shoot – where, when, the idea behind it, etc…
It was shot in the beautiful Eastern Suburbs of Sydney at one of the most gorgeous mansions. The idea was behind it was sexy poolside with a sprinkle of jungle.
Are there any other funny anecdotes you can share about this shoot?
There's a couple actually, one being that even though there was sunshine it was actually freezing, so for half the shoot I was walking around in socks/ shoes. The second being that at the end of the shoot I was completely covered in oil and was in desperate need of a shower but the owner of the home didn't want any oil on her marble shower, so I was naked with only a towel covering me until I made it to my friend's house nearby.
Have you ever been to New Zealand? If so, what are you favourite spots and why?
I'm actually half Maori. I'm named after a Maori mythological mermaid. Cute story behind it. I really loved Auckland and my family's home town which is in Kawerau.
Where else in NZ would you like to visit?
I would love to visit the South Island. There's something about the snow that excites me!
When do you feel sexy and why?
I feel sexy when I've been training often and put on a really nice set of lingerie.
What is your best asset? Physically and otherwise.
My best asset would have to be my smile. That's what I've been told.
Give us a little more background about yourself and your life story so far.
I come from very humble beginnings and I've achieved a lot in my life. For the past five years it's been my work family and myself building from the ground up.
What would people be most surprised to know about you?
That I'm actually extremely down to earth and easy-going. You could almost call me "Tomboyish"
How would you describe yourself in five words?
Confident, creative, humourous, driven, leader
How long have you've been modelling and what would do if you weren't modelling?
My first ever photo shoot I think I would've been around 12-13. It was never my cup of tea, but now I love it. If I had to something different it would be something else in the entertainment industry.
What have you learned about men over the years?
I've learned that they are like dessert, you don't need them, but they're great if you want them.
What's one thing men should always know about women?
Look into the finer details, women really love that.
What do you look for in a man?
I like the well-manicured bad boy look. Tall with broad shoulders and well-built legs. Hair with the exception of head and face is a NO. I also like extremely well dressed, whether it be a matching tracksuit or ready to wear.
Describe your ideal date.
I'm pretty simple to be honest. I'm not hard to please. Anything with a little bit of thought goes a long way in my books.
What can we get you at the bar?
Well it used to be the most sugar filled cocktail on the list, but then I started wondering why I could never lose weight. Now I'm a double shot vodka lemon lime and aids kind of girl.
Got a hangover cure?
I like to eat a healthy meal and train the next day if I have it in me. Otherwise I'll call in for the drip and trust me I do not like needles. Severe cases only.
What's your best hidden talent?
I'm really good at doing tongue tricks.
Do you have any phobias?
Needles and bad smells.
Who is your girl crush and why?
I feel like these days I have way too many, I think all women are gorgeous. If I had to pick one it would probably be J.Lo
What's the freakiest/weirdest thing someone has sent you via social media?
The freakiest thing would have to be some guy telling me that he would do anything to be my slave, carry my shopping bags, take out my trash. Things of that nature.
What is your motto in life?
It is what it is. F*** what it was. Life is too short to dwell on the past.
What's next for you? Any exciting projects on the horizon you can share with us?
Well you guys are going to hear it here first! I finally got my visa for America so I'm going back for good. I'm really excited!
Finally, where would you like to be in five years?
I would like to be comfortable. Hopefully achieve some amazing things in that time and have a big enough platform to help people. ■
PHOTOGRAPHED BY NEIL DIXON
MAKE-UP BY YVETTE ELIAS
HAIR BY SEPID / CHRISTOPHER HANNA HAIR SYDNEY
LOCATION BY WWW.PURELOCATIONS.COM.AU / @PURELOCATIONS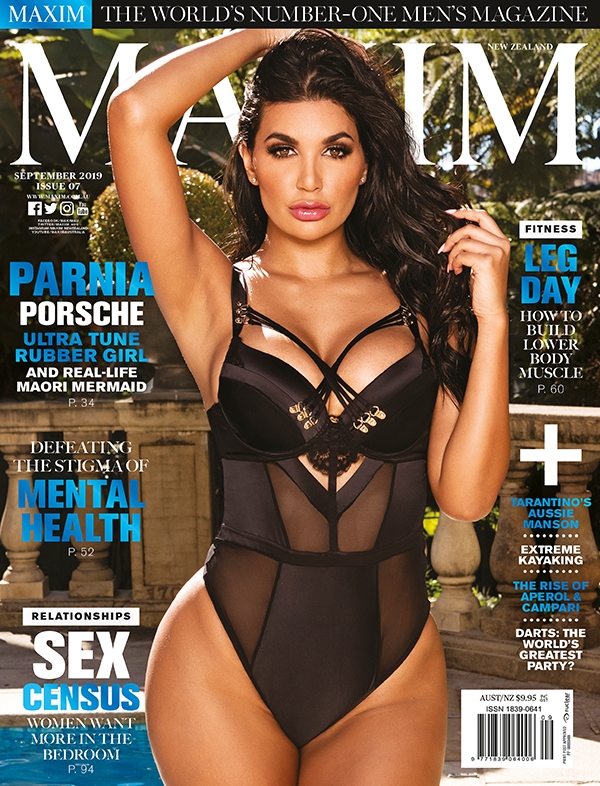 For the full article grab the Septmeber 2019 issue of MAXIM New Zealand from newsagents and convenience locations, or a digital copy from Zinio and Magzter. Subscribe here.